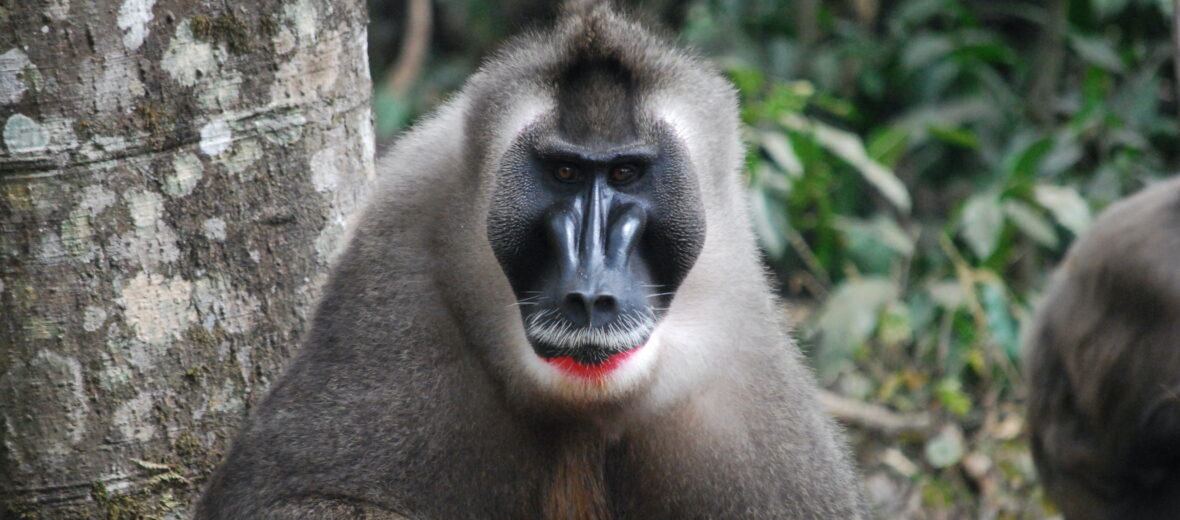 Related to the mandrill, the drill is a short tailed, old world monkey that hails from Cameroon, Nigeria, and the island of Bioko in Africa. They prefer mature lowlands, riverine and coastal forests, as well as secondary forests. Drills are among the most endangered monkeys in Africa. There are only an estimated 3,000+ wild individuals remaining and their populations are decreasing. Drills are subject to habitat destruction, hunting, and trapping. For this reason, they are listed as Endangered by the IUCN.
First the Stats…
Scientific name: Mandrillus leucophaeus
Weight: Up to 110 lbs.
Length: Up to 2.3 feet
Height: Up to 2.1 feet
Lifespan: Up to 30 years
Now on to the Facts!
1.) Drills are diurnal (active during the day), like other monkeys.
2.) They are social creatures that congregate into groups of up to 20 individuals.
3.) The drill community is patriarchal. In that it consists of a dominant male with numerous females and their young. As a result of it being a patriarchal society, fights can break out between troops.
4.) During plentiful times of food these monkeys can gather into super groups of up to 100+ strong.
5.) When traveling they walk on all 4 limbs.
But wait, there's more on the drill!
6.) These monkeys are primarily terrestrial (spend most of their lives on the ground).
7.) Communication consists of rubbing their chests on rocks and trees to mark their territory. Urine may also used to scent their domain.
Did you know…?
Their natural range is smaller than the state of West Virginia (-24,038 mi2)
8.) They vocalize via grunting. Primarily 2 grunts at a time.
9.) A group of monkeys is called a troop, tribe, barrel, cartload, or wilderness.
10.) Drills feed on leaves, fruits, insects (like termites). They also raid local palm oil plantations.
But wait, there's still more on the drill!
11.) Leopards and humans prey on the drill monkey.
12.) Due to observations of daily behaviors it is presumed that males are polygynous (1 male mates with multiple females).
Did you know…?
Males become more colorful with age. They tend to get red chins and pink, red, and/or blue butts.
13.) Females undergo up to a 182 day gestation (pregnancy) that yields 1 infant.
14.) Facial expression is used to communicate as well. These monkeys will use the "grin" expression for communicating friendship but they will also use this facial display in acts of aggression.
15.) Social grooming is an important part of their daily routine and enhances community bonding.
16.) These monkeys are sexually dimorphic in that males are far heavier than females.
Now a Short Drill Video!
Be sure to share & comment below! Also, check out the Critter Science YouTube channel. Videos added frequently!
Want to suggest a critter for me to write about? Let me know here.
Learn more about all kinds of cool critters, right here!