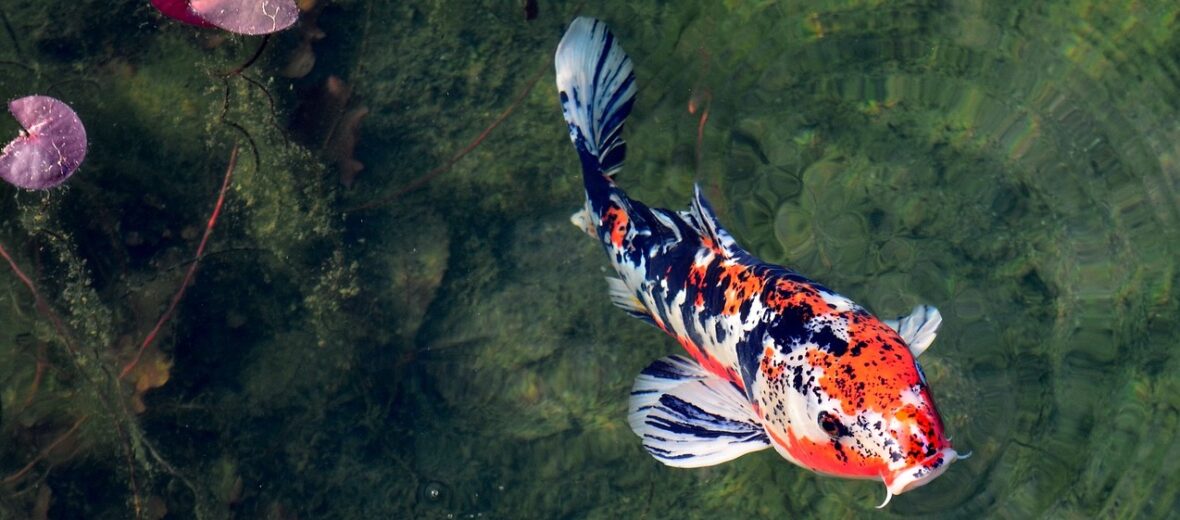 The Koi is the domesticated version of the common carp. There are 100 known varieties of Koi. These fish hail from Eastern Asia, but now exist on 6 of the 7 continents. They come in a myriad of colors, like white, cream, black, red, yellow, gray, brown, and even blue & green. They also come in a variety of scale types. Chinese farmed them in rice patties, in the 4th century, as a source of food. The Japanese took notice of their sometimes striking colors and began selectively breeding them to obtain specific color combinations and scale styles.
First the Stats…
Scientific name: Cyprinus rubrofuscus
Weight: Up to 35 lbs.
Length: Up to 3 feet
Lifespan: Up to 200 years
Now on to the Facts!
1.) People in Japan believe Koi symbolize wealth, prosperity, a successful career, love, and good fortune.
2.) They can be sold for thousands of dollars and up.
3.) Seeing as how they constantly excrete ammonia, without a good filtration system they would eventually poison themselves.
4.) In the wild, they consume insects, algae, fry, plant, and animal matter. This makes them Omnivores (eat plant and animal matter).
5.) While in captivity these fish partake in vegetables, krill, and plankton, cereal, dead leaves, and of course processed Koi food.
But wait, there's more on the Koi!
6.) These fish have pharyngeal teeth (teeth located in the back of their mouth/throat). These are used to crush up food for easier digestion.
7.) Koi are docile in nature, but they have been known to eat their own fry (juvenile fish) before their colors develop.
Did you know…?
The red Higoi breed of Koi, named Hanako, was the oldest Koi ever recorded. Hanako was born in 1751 in Japan. She died of old age in 1977 at the ripe old age of 226!
8.) They can be trained to eat right from your hand.
9.) A collector from Taiwan bought a female Koi named "S Legend" for $1.8 million. This was the most expensive domesticated fish ever recorded.
10.) Koi are often associated with the yin-yang symbol. They symbolize 2 energies that come together as 1 creating both harmony and balance.
But wait, there's still more on the Koi!
11.) Sunburns actually happen with this species of fish, if enough shade isn't provided.
12.) In winter, in temperate regions, these fish will enter into torpor (a type of hibernation).
Did you know…?
Females can produce up to 50,000 eggs in a breeding season. However, only 50% of those typically survive.
13.) By cross-breeding a mirror carp (a common fish in Europe) and a metallic Ogon Koi the British were able to create what is called a ghost Koi. With their metallic scales, they almost disappear in the water.
14.) As mentioned they will sometimes eat their own eggs and young. Not due to aggression, but rather due to the fact that they may see them as insects and thus food.
15.) Marble betta or Koi betta have special transposons that cause their colors to transform over their lifetime.
16.) These fish have numerous predators like raccoons, otters, badgers, birds of prey, snakes, cats, and dogs.
Now a Short Koi Video!
Be sure to share & comment below! Also, check out the Critter Science YouTube channel. Videos added frequently!
Want to suggest a critter for me to write about? Let me know here.
Learn more about all kinds of cool critters, right here!