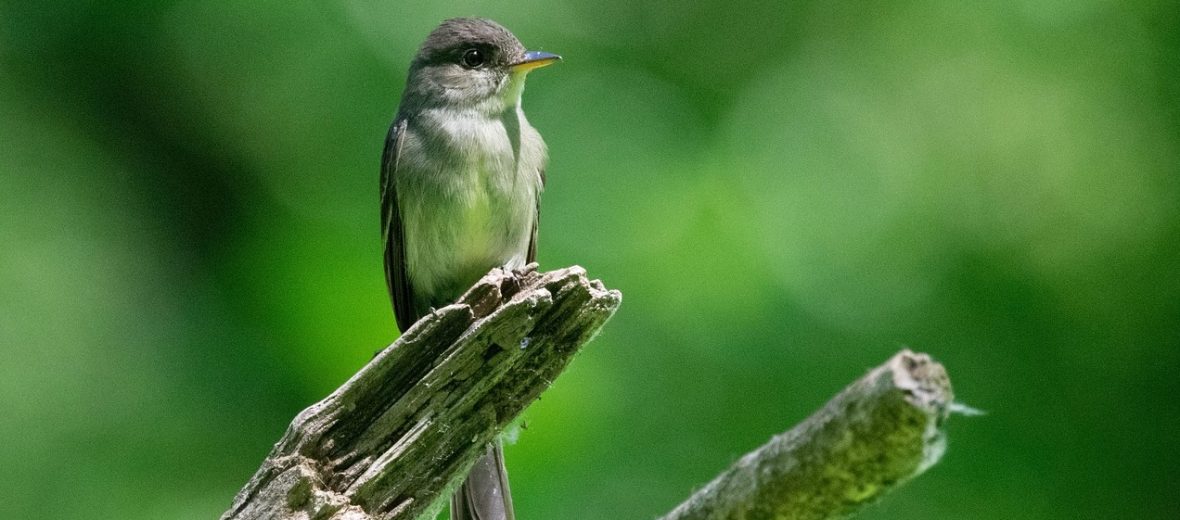 The eastern phoebe is wide spread throughout Canada, United States, and Mexico. These flycatchers prefer farmlands, open woodlands, and suburbs, as long as they're near a water source. Numbering around 35,000,000 wild individuals, these birds are listed as Least Concern by the IUCN. Their numbers are also increasing throughout their ranges.
First the Stats…
Scientific name: Sayornis phoebe
Weight: Up to .60 ounce
Length: Up to 6.7 inches
Wingspan: Up to 11 inches
Lifespan: Up to 10 years
Now on to the Facts!
1.) The eastern phoebe is solitary and only comes together to find a mate.
2.) They are diurnal (active at night).
3.) A group of phoebes is called a swatting, zapper, outfield, or zipper.
4.) Being very territorial, males will often use calls to denote their territory.
5.) Hunting tactics involve perching on a branch and waiting for passing insects. They will then chase down the flying insect, grab it, then return to a nearby branch, if not the same branch, to feast.
But wait, there's more on the eastern phoebe!
6.) Their usual calls are a "chip" sound, or a "fee-bee" sound, from which they got their name.
7.) These birds are primarily Insectivores. However, in the winter, they will also feast on berries and fruit.
Did you know…?
With more than 400 species, flycatchers are the largest family of birds.
8.) Chipmunks, mice, snakes, and other birds attack their eggs and nestlings.
9.) Eastern phoebes are monogamous (mate for life).
10.) Breeding season starts in April and these birds have 2 broods per season.
But wait, there's still more on the eastern phoebe!
11.) Each brood consists of up to 6 eggs that hatch in up to 17 days.
12.) Both parents take part in feeding the chicks for up to 16 days. Then they are ready to leave the nest.
13.) They are among the first birds to arrive in spring and the last to leave in fall.
Did you know…?
By banding these birds, and others like them, it is possible to track their migratory routes and more.
14.) The eastern phoebe can raise their crest feathers, slightly, when concerned or they feel threatened.
15.) In 1804 eastern phoebes were the first birds to be banded in North America, by naturalist, ornithologist, and painter John James Audubon.
Now a Short Eastern Phoebe Video!
Be sure to share & comment below! Also, check out the Critter Science YouTube channel. Videos added regularly!
Want to suggest a critter for me to write about? Let me know here.
Think you know a lot about critters? Try your hand at these fun, free quizzes: