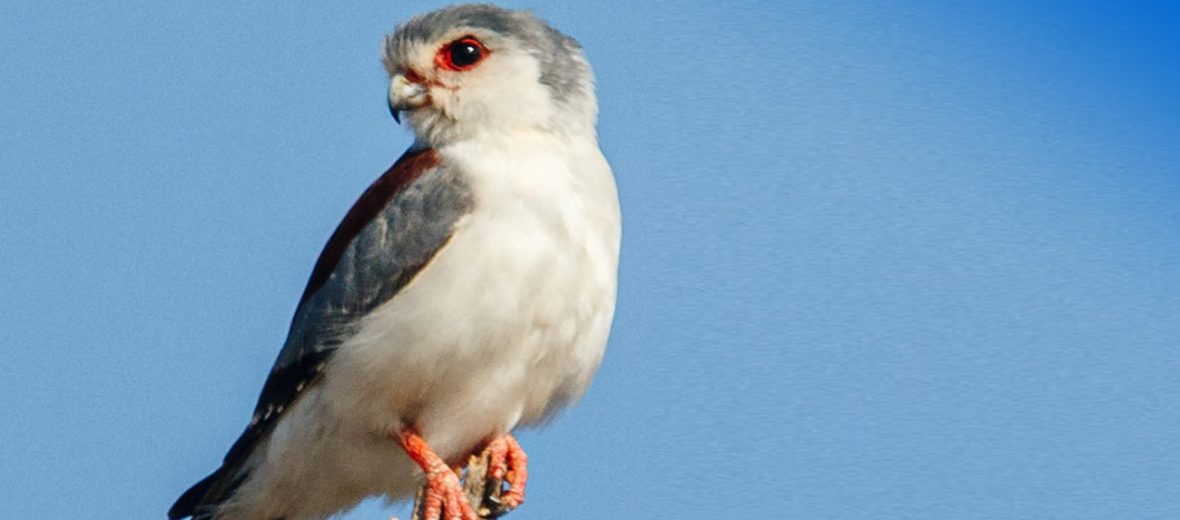 The pygmy falcon, aka African pygmy falcon, hails from southern and eastern Africa. These birds of prey are the smallest raptor in Africa. These raptors prefer semi-arid steppe habitats with little ground cover, as well as a smattering of large trees. Due to their stable population – an estimated 1,000,000 birds – these diminutive critters are listed as Least Concern by the IUCN.
First the Stats…
Scientific name: Polihierax semitorquatus
Weight: Up to 2.2 ounces
Length: Up to 7.9 inches
Wingspan: Up to 14 inches
Lifespan: Up to 20 years
Now on to the Facts!
1.) The calls of these birds is a repeated, high-pitched "kikiKIK," a "chip-chip", and a "kik-kik-kik-kik."
2.) They prey on insects, reptiles, small rodents, and even birds.
3.) Larger birds of prey and smaller cats prey on pygmy falcons.
4.) Being an obligate nest pirate, these birds of prey can be found inhabiting up to 1/4 of Africa's weaver bird nests.
5.) Seeing as these raptors prefer to take up residence in weaver nests, they pay their rent by preying on snakes and reptiles that might seek to eat the weavers.
But wait, there's more on the pygmy falcon!
6.) Pygmy falcons are diurnal (active during the day).
7.) Their are 2 recognized species of pygmy falcons: the African and white-rumped.
Did you know…?
These tiny raptors can fly at speeds of up to 60 mph and dive at speeds of up to 200 mph!
8.) These birds have a similar flight pattern to woodpeckers.
9.) Female falcons are polyandrous (1 female mates with several males). It is not uncommon to find more than 1 male in a nest.
10.) Females lay up to 4 eggs, at different times. This is to allow for asynchronous hatching (hatching at different intervals).
Now a Short Pygmy Falcon Video!
Be sure to share & comment below! Also, check out the Critter Science YouTube channel. Videos added regularly!
Want to suggest a critter for me to write about? Let me know here.
Think you know a lot about critters? Try your hand at these fun, free quizzes: