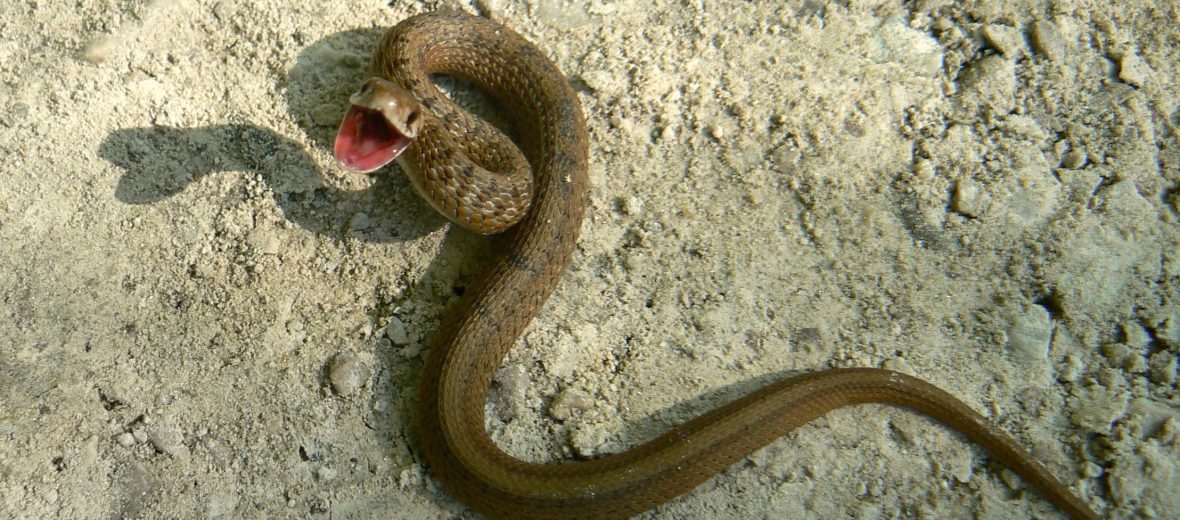 The dekay's brown snake, aka brown snake or northern brown snake, hails from Quebec, southern Ontario, the eastern half of the United States, on down throughout Mexico, Guatemala, Honduras, and potentially El Salvador. They prefer forests, grasslands, riparian woodlands, savannas, moist meadows, and wetland habitats. These snakes are abundant and listed as Least Concern by the IUCN.
First the Stats…
Scientific name: Storeria dekayi
Weight: Up to .011 ounce
Length: Up to 19.3 inches
Lifespan: Up to 7 years
Now on to the Facts!
1.) A group of snakes is called a bed, den, knot, nest, or pit.
2.) Like other snakes, dekay's are solitary and only come together to mate and will conglomerate together during winter months, when they brumate (hibernation for reptiles).
3.) These snakes are nocturnal (active at night).
4.) If threatened, they will flatten themselves to appear larger. They will also release a foul-smelling musk.
5.) The dekay's brown snake preys on earthworms, mites, slugs, snails, wood lice, and millipedes.
But wait, there's more on the dekay's brown snake!
6.) Dekay's brown snakes are polygynous (1 male mates with multiple females).
7.) Breeding season takes place in spring, just after brumation.
Did you know…?
Larger snakes, large frogs, toads, birds, and numerous mammals, including weasels, all prey on these snakes.
8.) Females birth up to 31 live young, thus making these snakes ovoviviparous.
9.) The snakelets are born precocial (self-sufficient), but will stay with their mother for a while.
10.) Snakelets become sexually mature at up to 3 years of age.
Now a Short Dekay's Brown Snake Video!
Be sure to share & comment below! Also, check out the Critter Science YouTube channel. Videos added regularly!
Want to suggest a critter for me to write about? Let me know here.
Think you know a lot about critters? Try your hand at these fun, free quizzes:
Photo credit: Benny Mazur