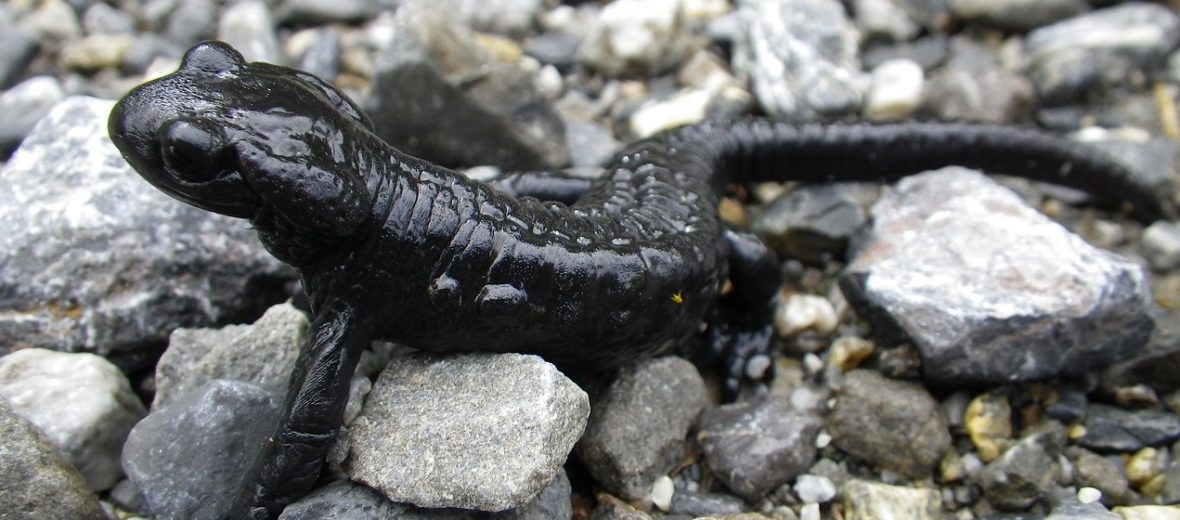 Hailing from The French Alps and the mountain ranges in Europe it's the alpine salamander. There are 4 subspecies of the alpine salamander, each with various markings and colorations. Even though these critters face the threats of housing and urban development; recreational activity impacts; habitat division via roads and railroads; water access reduction via dams and other water management systems; agricultural demands; hunting; trapping; climate change; & invasive species (and with them disease), these salamanders are still listed as Least Concern by the IUCN. Their populations are decreasing though.
First the Stats…
Scientific name: Salamandra atra
Weight: Up to 2+ ounces
Length: Up to 6 inches, including the tail
Lifespan: Up to 10 years
Now on to the Facts!
1.) Alpine salamanders produce a toxin from their skin that is a neurotoxin. This toxin helps keep them safe from predators and potential microbial infections.
2.) Although most alpines are melanistic (black), some display a yellow coloration. This is thought to be a form of aposematic coloration (coloration that warns predators of potential toxicity).
3.) These salamanders are diurnal (active during the day).
4.) The Corsican fire salamander is their closest living relative.
5.) They can be found at elevations of up to 6,600 feet.
But wait, there's more on the alpine salamander!
6.) Being very stationary, these salamanders tend to stick within a 39 foot radius their whole life.
7.) Unlike other salamanders, alpines are completely terrestrial and don't develop in water as a larval form. They are born live and fully developed.
Did you know…?
The effects of these salamander's poison can cause convulsions, respiratory paralysis, and even eventual death.
8.) These sallies mark their territories using fecal pellets so they can locate their own shelters and warn others that this spot is taken.
9.) Birds, rats, snakes, raccoons, minks, wild boars, and foxes are all suspected predators.
10.) They prey on beetles, snails, slugs, millipedes, and spiders.
But wait, there's still more on the alpine salamander!
11.) Alpine salamanders are promiscuous (1 male mates with multiple females).
12.) Males are more likely to engage in chasing other males.
13.) Many times, 1 male will mount another, loosely grasping it with his forearms, and begin rubbing his head on the other male. After some time, the males will switch roles. This can go on for up to 7+ minutes.
Did you know…?
Unlike other poisonous amphibians, the alpine salamander produces their own toxins, without the help of ingesting toxic invertebrates.
14.) It is not certain whether this is caused by territoriality, gender confusion and mistaken mating, or just combat.
15.) Fertilization is done internally and females are viviparous (bear live young).
But wait, there's still a little more on the alpine salamander!
16.) Females bear up to 4 live young, but typically 1 – 2. The young are born precocial (self sufficient) and measure up to 2 inches long.
17.) Their toxin has a mustard-like scent, due to the presence of alkaloid molecules and peptide products.
18.) So far, these salamanders have not been adversely affected by the deadly Chytrid fungus.
Now a Short Alpine Salamander Video!
This video talks about salamanders, in general.
Be sure to share & comment below! Also, check out the Critter Science YouTube channel. Videos added regularly!
Want to suggest a critter for me to write about? Let me know here.
Think you know a lot about critters? Try your hand at these fun, free quizzes: