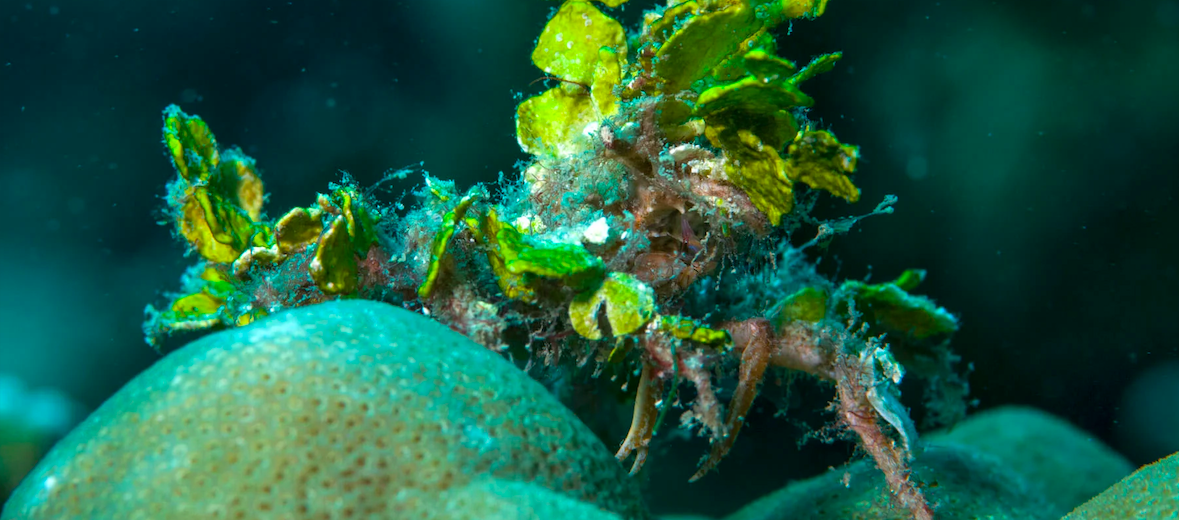 The decorator crab takes camouflage to a whole new level. There are 700 known species of these camo experts. They can be found in oceans all over the world and even in fresh water. These crabs prefer reefs and kelp forests. None of the decorator crab species are currently evaluated by the IUCN. But all are affected by habitat destruction, pollution, and climate change.
First the Stats…
Scientific name: Oregonia gracilis (And others)
Length: Up to 5+ inches
Lifespan: Unknown
Now on to the Facts!
1.) Their primary defense is, of course, camouflage, as well as staying still in the face of danger.
2.) Larger decorator crabs don't intentionally adorn themselves with living or dead creatures and objects. However, some other creatures will often seek refuge on larger crabs in order to aid in their protection.
3.) The relationship between crab and adornments is called mutualism. This is where both the crab and the creature used as camouflage both gain benefits. In the case of the crab, the benefit is camouflage, in the case of the creature being used, they get the benefits of left over food from the crab.
4.) Some decorator crabs intentionally pick poisonous, venomous, or noxious items to thwart predators. Some use toxic seaweed and even stinging sea anemones to decorate their shells.
5.) Crabs will stick items to their shell via the setae (stiff structures looking like hair or bristles) that cover their body.
But wait, there's more on the decorator crab!
6.) When they molt, the crab will carefully remove objects from their old shell and specifically place the items on it's new shell.
7.) Decorator crabs eat plankton, sponges, small crustaceans, bryozoans (sedentary aquatic invertebrates), and carrion (dead animals).
Did you know…?
Some decorator crabs will utilize sea anemones to aid in capturing prey, such as passing fish.
8.) Halibut, cephalopods, a variety of other fish, and sea otters all prey on these crabs.
9.) Like other crustaceans, their shell does not grow, but the crab does. So when it outgrows its shell, it will molt (lose its old exoskeleton, revealing a new 1 underneath).
10.) Decorator crabs are often displayed in reef aquariums.
Now a Short Decorator Crab Video!
Be sure to share & comment below! Also, check out the Critter Science YouTube channel. Videos added frequently!
Want to suggest a critter for me to write about? Let me know here.
Learn more about all kinds of cool critters, right here!