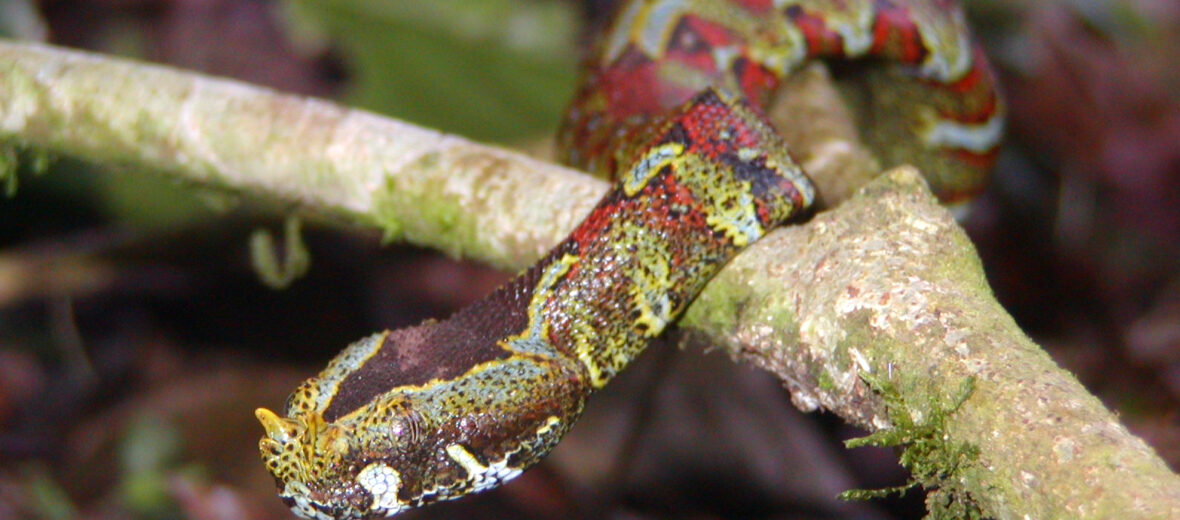 Found in the forests of Western and Central Africa, the rhinoceros viper, aka butterfly viper, rhinoceros horned viper, horned puff adder, or river jack, is a venomous snake that is renown for its beautiful coloration as well as its nasal horns. Due to exploitation for the international pet trade, hunting and trapping for food, and habitat destruction, these snakes are listed as Vulnerable by the IUCN. Their populations are also decreasing.
First the Stats…
Scientific name: Bitis nasicornis
Weight: Up to 20 lbs.
Length: Up to 47 inches
Lifespan: Up to 12 years
Now on to the Facts!
1.) Their fangs are small, for a viper, and rarely get larger than .59 inch long.
2.) When not in use, their fangs fold up into their upper jaw.
3.) These adders make a hissing sound through their nose, when they breathe.
4.) Rhinoceros vipers are Nocturnal (active at night).
5.) Even though they are primarily Terrestrial (spend most of their lives on the ground), they have been spotted nearly 10 feet up in trees.
But wait, there's more on the rhinoceros viper!
6.) They are also very good swimmers, like many snakes.
7.) Due to their partially prehensile tail, it is not safe to hold them by the tail, as they can easily double back and strike.
Did you know…?
Their venom is both neurotoxic (attacks the nervous system), as well as hemotoxic (attacks blood cells). The venom is known for destroying tissue and blood vessels and can be fatal to humans, if bitten.
8.) These vipers are typically slow moving, but can strike very fast either forwards or sideways. They also give no warning before they strike.
9.) Rhino vipers prey primarily on mice and rats. However, they will also take frogs, toads, and even the occasional fish.
10.) Females give live birth to up to 38 young snakelets. These young are born Precocial (totally self sufficient) and venomous.
Now a Short Rhinoceros Viper Video!
Be sure to share & comment below! Also, check out the Critter Science YouTube channel. Videos added frequently!
Want to suggest a critter for me to write about? Let me know here.
Learn more about all kinds of cool critters, right here!