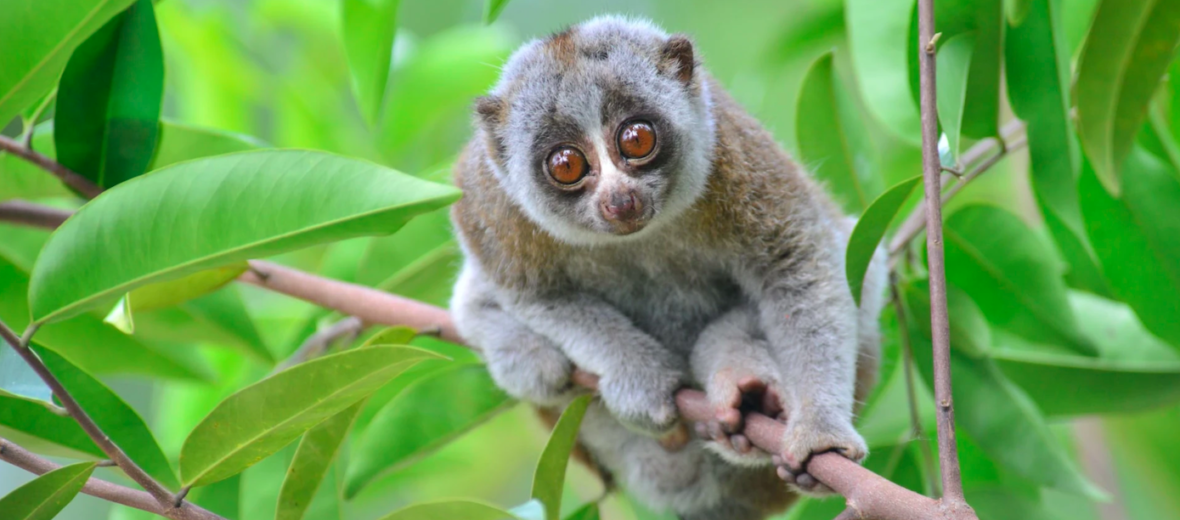 The Bengal slow loris, aka northern slow loris, hails from the Indian subcontinent and Indochina. They are the largest species of slow loris known. They prefer evergreen forests, deciduous forests, and rainforests with dense canopies. Like all slow loris species, they are listed as Endangered by the IUCN. This is due to habitat destruction, vehicle strike (getting hit by vehicles), hunting, and trapping for the exotic pet trade and ancient medicine (no scientific evidence points to the loris as being a cure for ANY disease). Sadly, their populations are severely fragmented and decreasing daily.
First the Stats…
Scientific name: Nycticebus bengalensis
Weight: Up to 4.6 lbs.
Length: Up to 15 inches, including tail
Lifespan: Up to 20 years
Now on to the Facts!
1.) Due to introgressive hybridization, these critters have been classified as their own species. Introgressive hybridization is the transfer of genetic information from 1 species to another as a result of hybridization between them and repeated backcrossing (a hybrid with 1 of its parents or an organism with the same genetic characteristics as 1 of the parents).
2.) In 2001, phylogenetic analysis provided evidence that the Bengal slow loris is most closely related to the Sunda slow loris, but is indeed its own species.
3.) They are nocturnal (active at night).
4.) Bengal slow loris' are also arboreal (spend most or all of their lives in trees).
5.) These primates are an indicator species, in that their presence is indicative of a healthy ecosystem.
But wait, there's more on the Bengal slow loris!
6.) Due to their diet of fruit, they act as important seed dispersers. However, they also feed on sap, tree gum, insects, snails, and small vertebrates.
7.) Like other slow loris, they can secrete a toxin from their brachial glands. These glands are located in each forearm.
Did you know…?
The toxin secreted from their elbows is, in and of itself, harmless. However, once mixed with saliva becomes a potent venom that causes severe pain and illness when an attacker is bitten. Death is not likely though.
8.) These slow loris' live in small family groups.
9.) They mark their territory via urine.
10.) Females reproduce once every 12 – 18 months and produce a single offspring after up to a 198 day gestation (pregnancy).
But wait, there's still more on the Bengal slow loris!
11.) Thanks to videos of them raising their arms to be 'tickled', they have become famous. However, a slow loris being tickled is torturous and when they raise their arms that is actually a defensive posture. So that video is horrible.
12.) Pythons, hawk eagles, and orangutans all prey on these loris'.
Now a Short Bengal Slow Loris Video!
Be sure to share & comment below! Also, check out the Critter Science YouTube channel. Videos added frequently!
Want to suggest a critter for me to write about? Let me know here.
Learn more about all kinds of cool critters, right here!