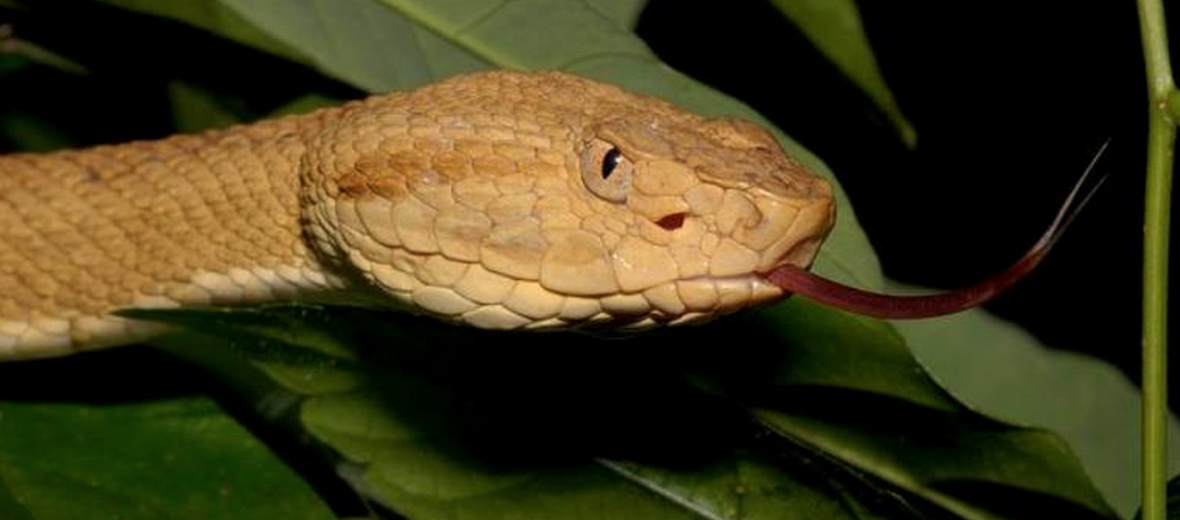 The golden lancehead is endemic to the Queimada Grande island, aka snake island. These deadly pit vipers are quick and are both terrestrial (spend their life on the ground) and arboreal (spend their lives in trees). So death awaits you from above and below. Travel to Queimada Grande island is strictly forbidden by the Brazilian navy. These snakes are listed as Critically Endangered by the IUCN, due to the fact that they live nowhere else and are confined to an island that is only 110 acres in diameter. People often sneak onto the island to take some of the venomous snakes for sale in the pet trade and for research regarding their venom.
First the Stats…
Scientific name: Bothrops insularis
Weight: Up to 1+ lbs.
Length: Up to 46 inches
Lifespan: Up to 15 years
Now on to the Facts!
1.) In general, lanceheads are responsible for more bites than any other snake in North and South America.
2.) Snake island has the most massive concentration of venomous snakes on the planet! There are literally 4,000+/- of them.
3.) They prey, mostly, on birds. But will also take other reptiles and even each other.
4.) The mortality rate for lancehead envenomations is up to 3% if the patient receives treatment and up to 7% if the patient doesn't receive treatment.
5.) Their venom is more closely geared towards birds and reptiles than to humans. or other mammals. It is a haemotoxin that destroys blood cells and causes massive hemorrhaging.
But wait, there's more on the golden lancehead!
6.) These vipers rely, in part, on their heat sensing pits located in the front of their head to pick up the heat signature of prey animals.
7.) Golden lanceheads breed from August – September.
Did you know…?
The community of Sao Paolo tells a tale of a family that tended to a lighthouse on the island. One night, a snake or snakes got into the house resulting in bites to every family member, killing them all. Rescue workers later went to the island to retrieve the family; never to return.
8.) Females birth up to 6 live young. Baring live young is common among vipers.
9.) The newborn vipers come fully loaded with lethal venom and go about their merry way, soon after birth.
10.) No official records of a human being bitten has been documented on the island though. But that's probably because not many humans get to visit the island.
Now a Short Golden Lancehead Video!
Be sure to share & comment below! Also, check out the Critter Science YouTube channel. Videos added frequently!
Want to suggest a critter for me to write about? Let me know here.
Learn more about all kinds of cool critters, right here!