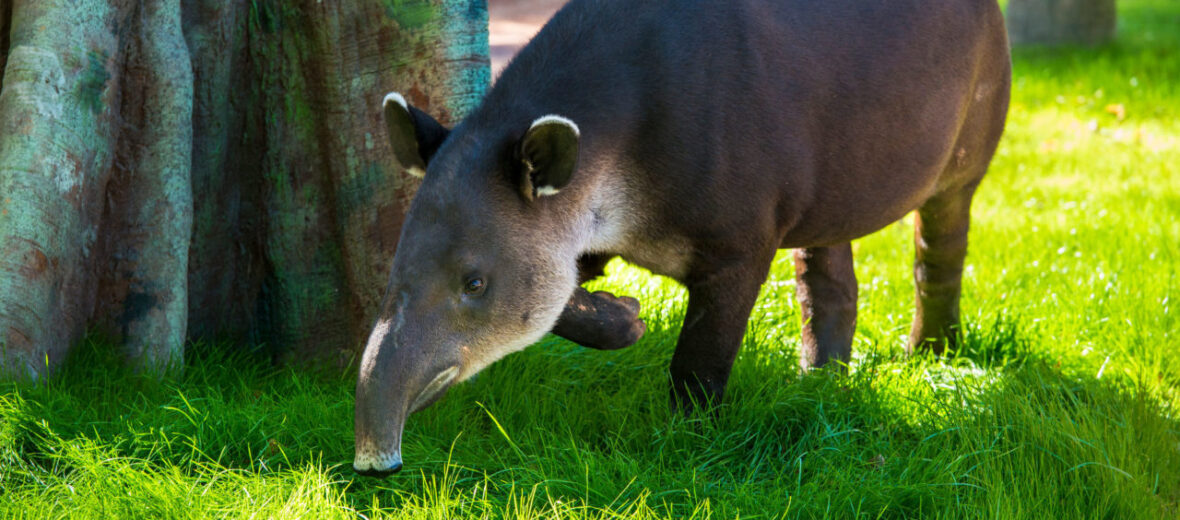 The odd looking Baird's tapir, aka Central American tapir, Danta, Anteburro, Macho de Monte, tzemen, niguanchan, or Mountain cow, hails from south-eastern Mexico down to Panama and the north-western parts of Colombia. They prefer regions with tropical jungles that have plenty of water. These amazing critters are the largest land mammal found in Central and South America. Habitat destruction at the hands of mining, logging, agriculture, and urban development; hunting; trapping; and range fragmentation due to roads has pushed these creatures to the brink. They are listed as Endangered by the IUCN and their populations are sadly decreasing.
First the Stats…
Scientific name: Tapirus bairdii
Weight: Up to 650+ lbs.
Length: Up to 5 feet
Height: Up to 47+ inches
Lifespan: Up to 30+ years
Now on to the Facts!
1.) Due to their shy and quiet nature, they are difficult to view in the wild.
2.) These tapirs can exist individually or in smaller family groups.
3.) Baird's tapirs are mostly cathemeral (active both day and night). But they spend the bulk of their day hiding in the thick vegetation.
4.) They may look bulky but these tapirs are actually quite agile and can easily navigate through forest thickets with ease.
5.) Baird's are excellent climbers and swimmers.
But wait, there's more on the Baird's tapir!
6.) When threatened, they usually retreat to the water, where they can stay submerged for several minutes.
7.) Their trunks are prehensile (used as an additional appendage).
Did you know…?
The common name comes from the American naturalist Spencer Fullerton Baird.
8.) They utilize the same traveling paths and mark their paths with urine.
9.) Their communication consists of scent marking and a shrill whistling call.
10.) A group of Baird's tapirs is called a candle or a herd.
But wait, there's still more on the Baird's tapir!
11.) Being strict Folivores, Frugivores, and lignivores these creatures spend their free time in search of fruit, leaves, seeds, and twigs.
12.) Crocodiles, jaguars, and pumas all prey on the Baird's tapir. They're also hunted by humans.
13.) The Baird's tapir is monogamous (mates for life).
Did you know…?
Adult Baird's tapirs can eat up to 75 lbs. of food in a single day!
14.) Females undergo up to a 400 day gestation (pregnancy) that yields a single calf.
15.) Calves weigh in at about 20 lbs. at birth.
But wait, there's still a little more on the Baird's tapir!
16.) The word tapir hails from the Brazilian Indian language and translates to "thick". It is in reference to their dimensions and the toughness of their hide.
17.) These adorable beasts spend a majority of their waking time in water to cool off and to remove parasites.
18.) There is a female Baird's tapir named April who has become the National Animal of Belize and her birthday is a national event, each year. She is nicknamed "The Mountain Cow" and lives in the Belize Zoo.
Now a Short Baird's Tapir Video!
Be sure to share & comment below! Also, check out the Critter Science YouTube channel. Videos added frequently!
Want to suggest a critter for me to write about? Let me know here.
Learn more about all kinds of cool critters, right here!