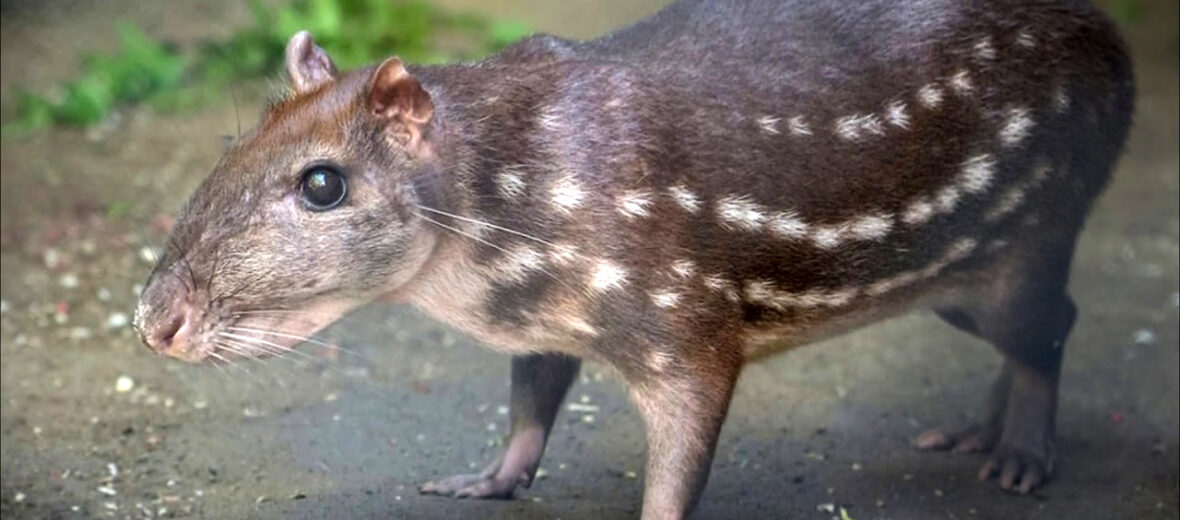 The paca, aka spotted paca, is a large rodent that hails from Central and South America, and have been introduced to Cuba. They prefer to dwell in tropical evergreen and subdeciduous forests, but can tolerate a wide range of habitats; as long as they're near a water source. Due to their wide range and stable numbers these rodents are listed as Least Concern by the IUCN.
First the Stats…
Scientific name: Cuniculus paca
Weight: Up to 29 lbs.
Length: Up to 30 inches
Lifespan: Up to 12.5 years
Now on to the Facts!
1.) While slow to move on land, they are skilled swimmers.
2.) Pacas are nocturnal (active at night).
3.) They are typically very aggressive towards other members of the same sex and are also not too fond of other animals, especially agoutis.
4.) These critters can sometimes be found in small family groups consisting of a mated pair and their offspring.
5.) Pacas both build their own burrows and occupy abandoned burrows left behind by other animals. The burrows are always near water.
But wait, there's more on the paca!
6.) They love the water so much that they will not only retreat to the water when frightened, but they will also even breed in water.
7.) Their preferred diet is that of fruits and various vegetation. Thus making them a frugivore (eats fruit) and a folivore (eats leaves).
Did you know…?
Pups are born mostly precocial (covered in fur and eyes open).
8.) The paca is monogamous (mates for life).
9.) Females undergo up to a 119 day gestation (pregnancy) that yields 1 – 2 pups.
10.) Cougars and jaguars prey on pacas.
Now a Short Paca Video!
Be sure to share & comment below! Also, check out the Critter Science YouTube channel. Videos added frequently!
Want to suggest a critter for me to write about? Let me know here.
Learn more about all kinds of cool critters, right here!