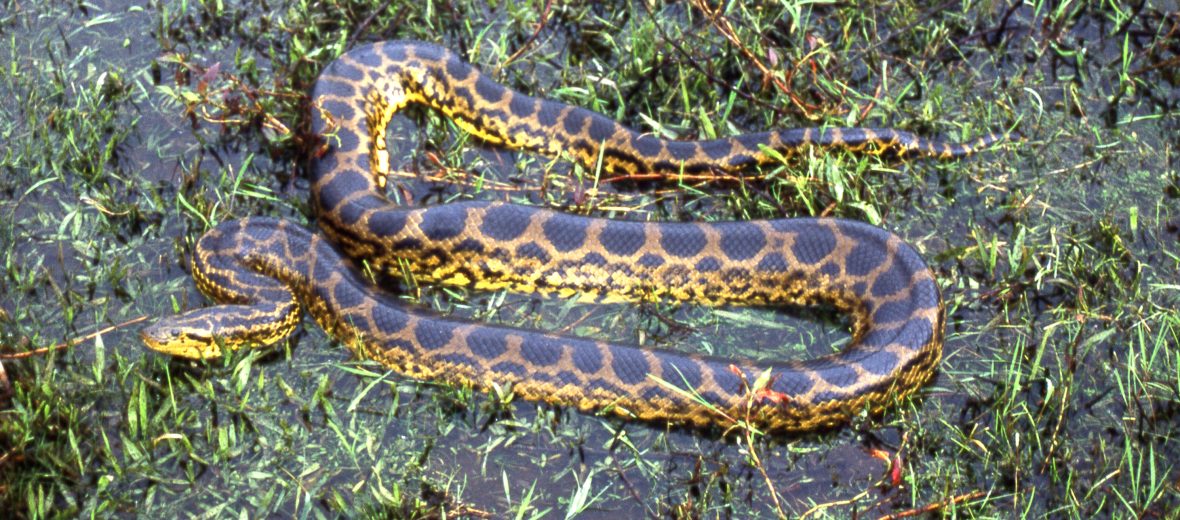 The yellow anaconda, aka Paraguayan anaconda, can be found in Argentina, Bolivia, Brazil, Paraguay, and Uruguay. They prefer predominantly aquatic habitats, like marshes, swamps, & brush-covered banks of slower-moving streams and rivers. These large serpents may face the threats of habitat destruction at the hands of agricultural and aquacultural activities, and dams; hunting; and trapping for their skins, but they are still listed as Least Concern by the IUCN. Their population trend is listed as stable, for the time being.
First the Stats…
Scientific name: Eunectes notaeus
Weight: Up to 33 lbs.
Length: Up to 14.5 feet
Lifespan: Up to 23 years
Now on to the Facts!
1.) Like most snakes, they are solitary and only come together to mate.
2.) They are cathemeral (active both day and night).
3.) Due to the fact that they spend most of their lives in or near water, they are sometimes referred to as water boas.
4.) These snakes will venture out onto land, from time to time, to look for land-based prey, to move to another body of water, and to mate.
5.) Yellow anacondas tend to hunt in shallower water between the months of June – November, when the water levels, from flooding, have receded and water birds are more prevalent.
But wait, there's more on the yellow anaconda!
6.) Prey include: water birds, reptiles, amphibians, fish, eggs, brocket deer, peccaries, and capybaras.
7.) These snakes sometimes form breeding balls consisting of 1 female and multiple males. The breeding balls can sometimes stay together for up to 1 month.
Did you know…?
Like all snakes, these critters are deaf. They therefor "hear" via vibrations felt in their jaw.
8.) Females are ovoviviparous (birth live young). They undergo up to a 6-month gestation (pregnancy) that can yield a whopping 82 young!
9.) The snakelets are born precocial (self sufficient).
10.) Their Greek name, Eunectes, translates to good swimmer.
Now a Short Yellow Anaconda Video!
Be sure to share & comment below! Also, check out the Critter Science YouTube channel. Videos added regularly!
Want to suggest a critter for me to write about? Let me know here.