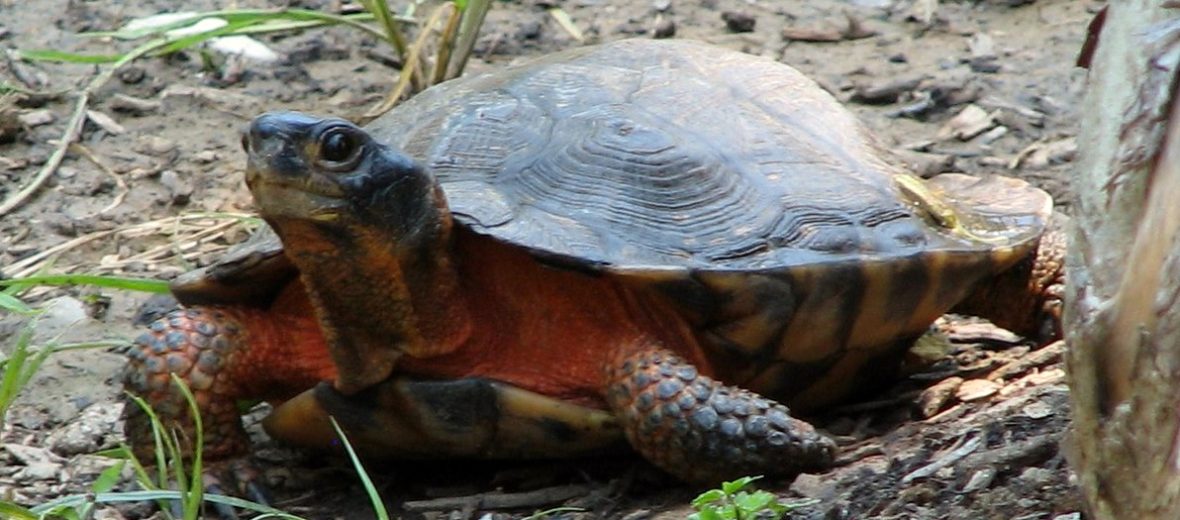 The wood turtle hails from northeastern United States and southeastern Canada. Based on the season, they can be found dwelling in slow-moving streams with a sandy or muddy bottom and/or along heavily vegetated banks. They can also be found around bogs, grasslands, wet meadows, forests, fields, and even beaver ponds. Due to the ongoing threats of habitat destruction, at the hands of residential and commercial development, agriculture, aquaculture, and mining; roads that divide their territory and subject them to vehicle strike (being hit by vehicles); hunting; trapping; fires and fire suppression; and human based recreational activities, these turtles are listed as Endangered by the IUCN. Their populations are also decreasing.
First the Stats…
Scientific name: Glyptemys insculpta
Weight: Up to 2.5 lbs.
Length: Up to 9 inches
Lifespan: Up to 58 years
Now on to the Facts!
1.) Wood turtles are diurnal (active during the day).
2.) When the weather is a little cooler, they situate themselves slightly away from the water. During warming weather, they are found near or in the water more frequently.
3.) Even though these turtles are generally solitary, they can sometimes brumate (hibernation for reptiles) in small groups.
4.) During brumation, these turtles will bury themselves in mud and remain predominantly motionless for extended periods of time.
5.) While in groups, dominance hierarchies are established, with bigger and older turtles being more defensive and dominant.
But wait, there's more on the wood turtle!
6.) A group of turtles is called a bale, creep, dole, nest, or turn.
7.) These turtles are Omnivorous (eat plant and animal matter).
Did you know…?
Wood turtles are fast, in the turtle sense. They can reach speeds of up to 0.20 mph.
8.) They feast on millipedes, beetles, and slugs. Their diet also consists of fungi, grasses, mosses, and even carrion (dead animals).
9.) Males will fight with 1 another to win breeding rights.
10.) The courtship ritual entails several hours of what is termed as 'dancing.' This involves nudging the female's shell, head, legs, and tail. If she is not responsive, she will flee. The male will often pursue the female and can be very persistent.
But wait, there's still more on the wood turtle!
11.) Females lay upwards of 20 eggs that hatch in up to 69 days.
12.) Hatchlings are born precocial (self sufficient).
Did you know…?
These turtles have incredible homing abilities. They have found food in mazes and have been intentionally displaced over 1.5 miles away from their original location, only to find their way back.
13.) Like other turtles, they need to thermoregulate (control their bodily temperature) via basking in the sun.
14.) In a clever form of hunting adaptation, they will alternate the stomping of their feet to simulate rain falling. This causes earthworms to come to the surface, where they are snatched up.
15.) Snapping turtles, otters, foxes, raccoons, dogs, and cats all prey on wood turtles of varying sizes.
Now a Short Wood Turtle Video!
Be sure to share & comment below! Also, check out the Critter Science YouTube channel. Videos added regularly!
Want to suggest a critter for me to write about? Let me know here.