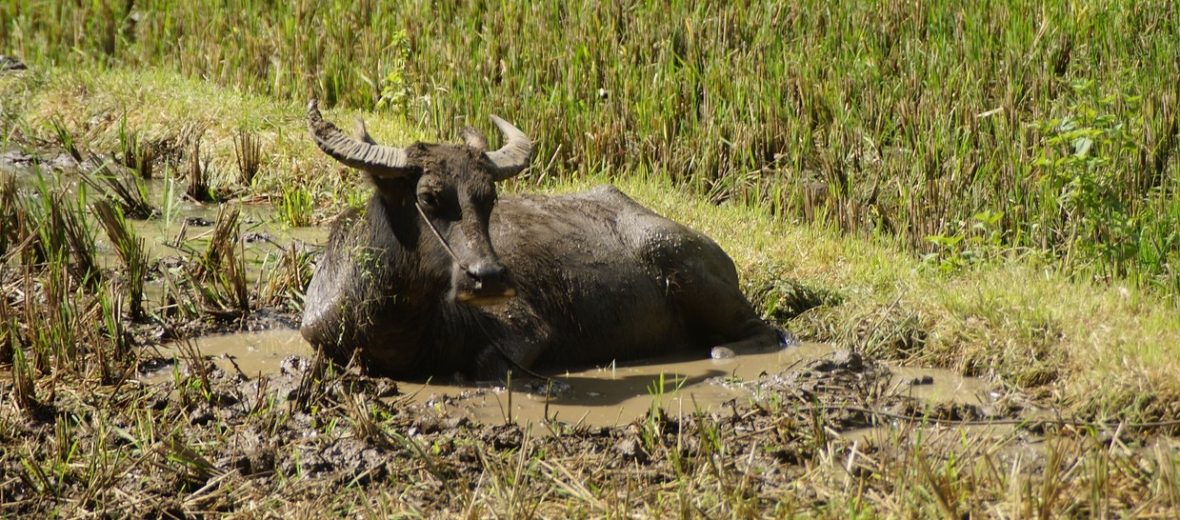 The carabao, aka kalabaw, kabaw, nuang, or kerbau, hails from all the larger islands of the Philippines. Wild carabaos prefer tropical and subtropical forests as well as wet grassland habitats. They spend the majority of their time wallowing in rivers, creeks, and mud holes. These beasts are largely utilized in agriculture on the islands, as they are strong, durable, and gentle. Due to a stable population, these critters are listed as Least Concern by the IUCN.
First the Stats…
Scientific name: Bubalus bubalis carabanesis
Weight: Up to 1,100 lbs.
Length: Up to 6 feet
Height: Up to 54 inches at the withers
Lifespan: Up to 20 years
Now on to the Facts!
1.) From records, water buffalo were first introduced to the Philippines by around 500 BCE.
2.) They are utilized in pulling plows and butchered for their meat and hides.
3.) Their hides were once used to make armor for the precolonial Philippine warriors.
4.) In 1993, the Philippine Carabao Center was created to propagate, conserve, and promote carabaos as a source of draught animal power, as well as meat, milk, and hide to help the rural farmers.
5.) As of 2003, there were an estimated 3.2 million carabaos in the Philippines.
But wait, there's more on the carabao!
6.) Carabao racing is a popular sport in the Philippines. A cart is attached to the back of the caraboa that a person rides in, and the race ensues. Winners receive money and prizes.
7.) Winning carabaos can fetch a price as high as ₱200,000 ($3,663.70 USD).
Did you know…?
The carabao puppet character, called Kardong Kalabaw, was popular as a symbol of the Philippine people's hard work ethic as well as their industrious nature; in the 1980s.
8.) The now feral population of these beasts, on the island of Guam, has grown so much that they have become a pest by causing environmental damage and polluting the local water supply.
9.) The carabao is considered a national symbol of Guam.
10.) Females undergo up to a 320 day gestation (pregnancy) that yields up to 2 calves.
Now a Short Carabao Video!
Be sure to share & comment below! Also, check out the Critter Science YouTube channel. Videos added regularly!
Want to suggest a critter for me to write about? Let me know here.