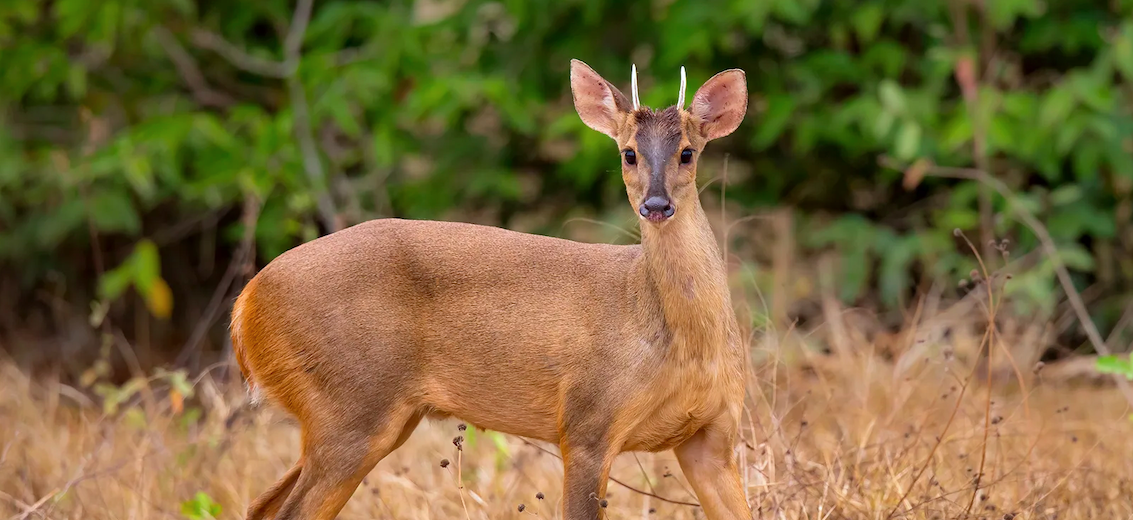 The red brocket deer hails from northern Argentina to Colombia, and can be found in the Guianas and the Caribbean island of Trinidad. They prefer swamps, streams, and marshes, particularly in locations that have dense vegetation, like tropical forests with closed canopies. These deer face the threats of agriculture and aquaculture; hunting; trapping; fires and fire suppression; dams and water management alterations; pollution; and invasive species (and with them predation and disease). They are listed as Data Deficient by the IUCN, and their population is currently unknown.
First the Stats…
Scientific name: Mazama americana
Weight: Up to 140 lbs.
Length: Up to 57 inches
Height: Up to 30 inches, at the shoulders
Lifespan: Up to 16 years
Now on to the Facts!
1.) Red brockets are typically solitary creatures that only come together to mate.
2.) They are cathemeral (active both day and night).
3.) Remaining motionless is their first response to a threat. If that doesn't work, they will either flee into the dense forest or swim across a river to the other side.
4.) Each individual's territory is an approximate 0.6 square miles.
5.) Their call is that of a piercing sounding cry.
But wait, there's more on the red brocket deer!
6.) A group of deer is called a herd, gang, leash, or mob.
7.) Preferring a Frugivorous (fruit-based) diet, they will switch to eating a variety of leaves, when fruit is not available. They will also consume fungi, if fruit and leaves are scarce.
Did you know…?
Being superb swimmers, these deer can navigate rivers as wide as 984 feet!
8.) Females undergo up to a 228 day gestation (pregnancy) that yields a single fawn.
9.) Fawns are weened at up to 6 months of age.
10.) There are 14 known subspecies of these deer.
But wait, there's still more on the red brocket deer!
11.) Their name "brocket" is thought to come from the French word "broc," which describes the tines of their antlers.
12.) Like so many other multi-chambered stomached animals, red brocket deer chew their cud. This aids in digestion of the food they consume.
13.) Pumas and jaguars prey on red brocket deer.
14.) These deer have smaller antlers, which helps keep them from getting stuck in the thick vegetation in which they reside.
Now a Short Red Brocket Deer Video!
Be sure to share & comment below! Also, check out the Critter Science YouTube channel. Videos added regularly!
Want to suggest a critter for me to write about? Let me know here.