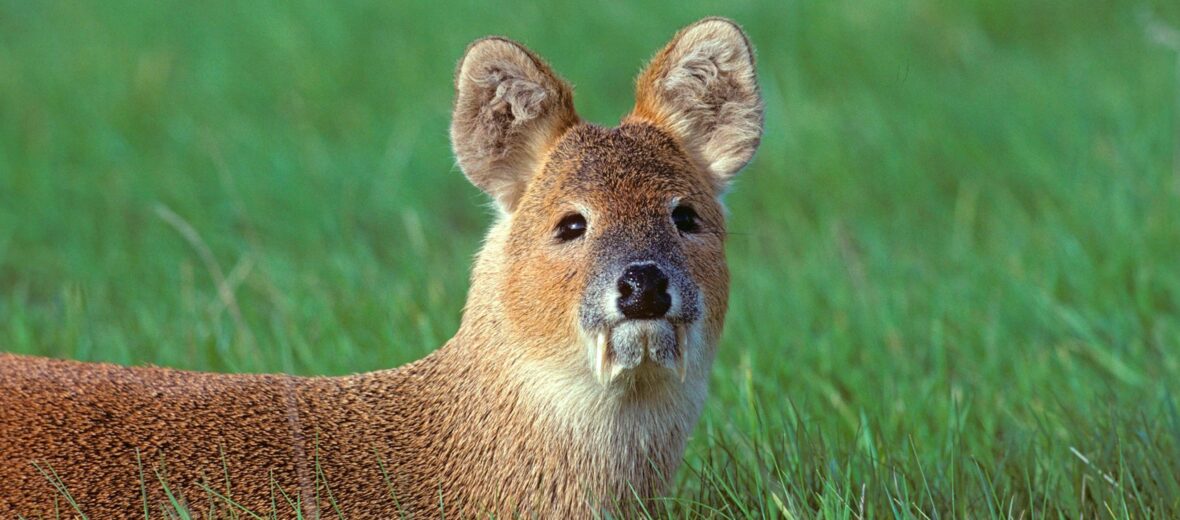 The water deer, aka Asian water deer, Chinese water deer, or Korean water deer, originate in east-central China in the lower Yangtze Basin and in Korea. These deer have also been transplanted to Great Britain and United States as well. They prefer locations with tall reeds, rushes, mountain areas, along rivers, cultivated fields equipped with tall grass, open grasslands, and swamp regions. Due to climate change, habitat destruction, hunting, and trapping, these deer are listed as Vulnerable by the IUCN; and their numbers are decreasing. This article is on special request from Abugayle.
First the Stats…
Scientific name: Hydropotes inermis
Weight: Up to 31 lbs.
Length: Up to 3.3 feet
Height: Up to 22 inches
Lifespan: Up to 12 years
Now on to the Facts!
1.) Their scientific name translates to 'unarmed water-drinker'.
2.) A group of deer is called a herd, gang, or mob.
3.) Water deer are typically found alone or in pairs.
4.) These deer are both matutinal (active during the morning) and vespertine (active in the early evening).
5.) Laying in the tall grass and shrubs during the day these deer will, when startled, dart off with leaps and bounds, like that of a hare.
But wait, there's more on the water deer!
6.) Even though they aren't social animals, they will warn others of danger via shrill barking calls.
7.) Being herbivores (eat plant matter) beets, vegetables, reeds, grasses, and other vegetation are all on the menu.
Did you know…?
Living up to their name, water deer are strong swimmers, able to navigate bodies of water for up to several miles at a time.
8.) Like other deer, water deer are polygynous (1 male mates with several females).
9.) Females birth up to 3 fawns after up to a 210 day gestation (pregnancy).
10.) Males are very territorial and will fight other males for breeding rights and territory.
But wait, there's still more on the water deer!
11.) These deer are the only known deer to lack antlers. Instead, they sport small tusks that are used for attracting a mate and possibly for fighting other males.
12.) Water deer have 1 primary stomach and 3 false stomachs. They also chew their cud, like cows do. This aids in the digestion of the tough vegetation they consume.
13.) They are afforded with 310° vision, as their eyes are located to the sides of their head.
Now a Short Water Deer Video!
Be sure to share & comment below! Also, check out the Critter Science YouTube channel. Videos added frequently!
Want to suggest a critter for me to write about? Let me know here.
Learn more about all kinds of cool critters, right here!