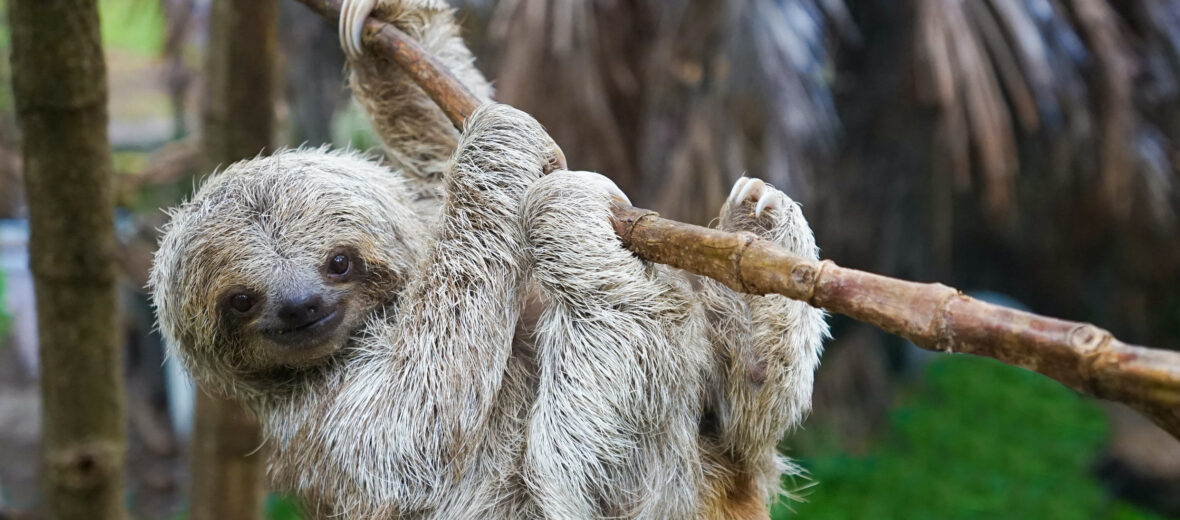 The pygmy 3-toed sloth, aka monk sloth or dwarf sloth, can only be found on Isla Escudo de Veraguas, a small island off the Caribbean coast of Panama. Since being separated from the mainland for around 9,000 years, these sloths have evolved into their own distinct genus. The unfortunate part of the story is that these critters live only on 1 small island and due to habitat destruction at the hands of logging, tourist, and commercial development, hunting & trapping, and feral cats, these amazing creatures are listed as Critically Endangered by the IUCN. Their population is also decreasing. Their future is uncertain.
First the Stats…
Scientific name: Bradypus pygmaeus
Weight: Up to 7.7 lbs.
Length: Up to 21 inches
Lifespan: Up to 40 years
Now on to the Facts!
1.) These critters were first described by Robert P. Anderson of the University of Kansas and Charles O. Handley Jr., of the Smithsonian Institution back in 2001.
2.) Like all sloths, they are arboreal (spend their lives in trees).
3.) Pygmy 3-toed sloths prefer red mangrove forests.
4.) These herbivores (eat plant matter) feed on various plant leaves.
5.) They are preyed on by jaguars, harpy eagles, and humans.
But wait, there's more on the pygmy 3-toed sloth!
6.) Just like all sloths, these critters will descend to the forest floor, once a week, to defecate (poop and pee). Then they make their way back up the same or different tree.
7.) As is the case with all sloths, their fur grows backwards, from their stomach to their back. Not the other way around, like other mammals. This aids in directing rain water down and away from the sloth.
Did you know…?
Sloths move so slowly that green algae literally grows on their fur. But this helps to camouflage them from predators.
8.) Not only does algae grow on their fur, but other creatures live in their fur. Cockroaches, moths, flies, gnats, and biting arthropods – like ticks and fleas, all live in or on these sloths.
9.) A 2012 census of pygmy three-toed sloths estimated the total population at only 79!
10.) Even though they have 3 claws on each limb, their name comes not only from their size but how many actual toes they have on their hind limbs.
But wait, there's still more on the pygmy 3-toed sloth!
11.) When the number of individuals gets too low, there is a population bottleneck and a decline in genetic variability. This results in genetic issues at birth, due to inbreeding. This, in turn, causes an exponential decline in their numbers.
12.) These sloths move about at only .15 mph.
13.) Due to the fact that they live in such a small area, they exhibit insular dwarfism. This is where they naturally grow smaller, due to a constricted environment. This happens to reptiles and fish, when pet owners keep them in too small of an enclosure.
14.) Like all sloths, the pygmy 3-toed sloth is an excellent swimmer.
15.) Although not much is known about their breeding habits, it is assumed that females undergo up to a 7 month gestation (pregnancy) that yields a single cub.
Now a Short Pygmy 3-Toed Sloth Video!
Be sure to share & comment below! Also, check out the Critter Science YouTube channel. Videos added frequently!
Want to suggest a critter for me to write about? Let me know here.
Learn more about all kinds of cool critters, right here!