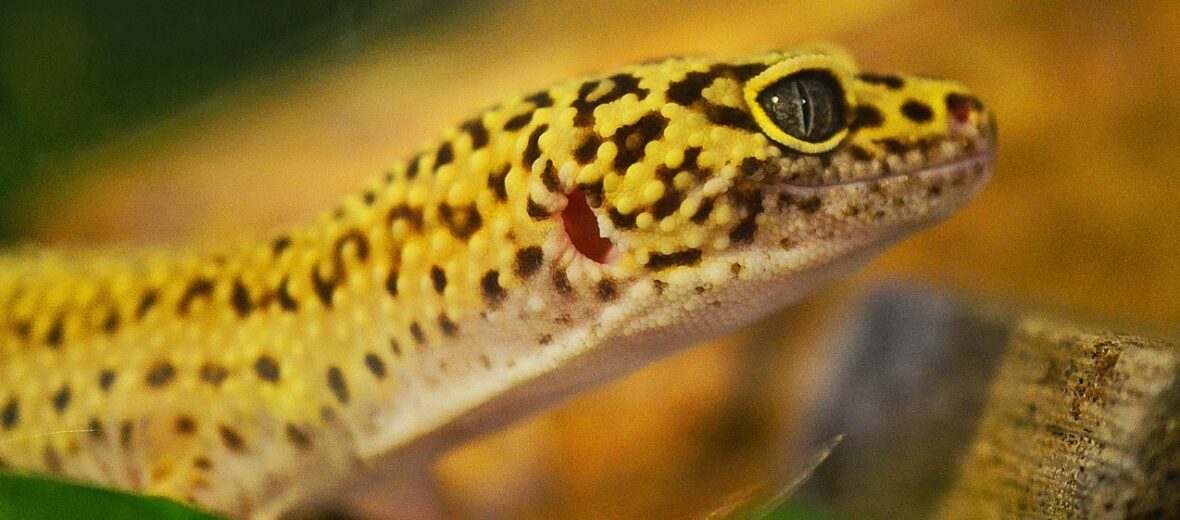 The leopard gecko is native to Pakistan, Afghanistan, north-west India, and certain portions of Iran. They prefer dry, rocky grasslands and desert regions. These cool and beautiful lizards come in a huge range of color morphs and patterns. They are also a common staple in the pet industry. In the wild, they face the threats of hunting, trapping, and habitat destruction; as well as over-collection for the pet trade. However, through all that, they are still listed as Least Concern by the IUCN.
First the Stats…
Scientific name: Eublepharis macularius
Weight: Up to 2.8 ounces
Length: Up to 11 inches
Lifespan: Up to 15 years
Now on to the Facts!
1.) These geckos are solitary and only come together to breed.
2.) Leopard geckos can be Cathemeral (active during the day and night). However, they tend to be more Nocturnal (active at night).
3.) In the wild, during the cold winter months, these geckos will brumate (Hibernation for reptiles) till the weather warms up.
4.) Snakes, foxes, birds, and larger lizards all prey on leopard geckos.
5.) The leopard gecko is an Insectivore (eats insects and grubs) that preys on beetles, centipedes, crickets, cockroaches, insect larvae, scorpions, spiders, other various insects, and nesting mice.
But wait, there's more on the leopard gecko!
6.) When stressed, these geckos will produce barks and squeaks.
7.) The fatness of their tail is a common way to determine their healthy eating. The thicker the tail, the more fat reserves the lizard has.
Did you know…?
When these geckos shed their skin they always eat the skin. This aids in protein enrichment and in the prevention of predators picking up their scent.
8.) When brumating, these geckos will rely on the fat stored in their tail to provide temporary nourishment.
9.) A group of geckos is called a lounge.
10.) Females lay up to 2 clutches of up to 2 eggs each season.
But wait, there's still more on the leopard gecko!
11.) Eggs hatch in to to 53 days. The young are born Precocial (self sufficient and fully developed), like other lizards.
12.) Unlike many other geckos, these critters have moveable eyelids.
Did you know…?
Leopard geckos have large ear openings and excellent hearing. In fact, their audio canals are so large and only covered with a thin membrane called a tympanic membrane that you can literally see right through their head.
13.) These geckos are Terrestrial. They don't possess toepads like most other geckos, that would allow them to climb vertical surfaces.
14.) If pursued by a Predator, these geckos can drop their tail in what is called caudal autonomy. The replacement tail grows back but never looks the same.
15.) Like other reptiles, leos are Ectothermic (get their heat from external sources).
Now a Short Leopard Gecko Video!
Be sure to share & comment below! Also, check out the Critter Science YouTube channel. Videos added frequently!
Want to suggest a critter for me to write about? Let me know here.
Learn more about all kinds of cool critters, right here!