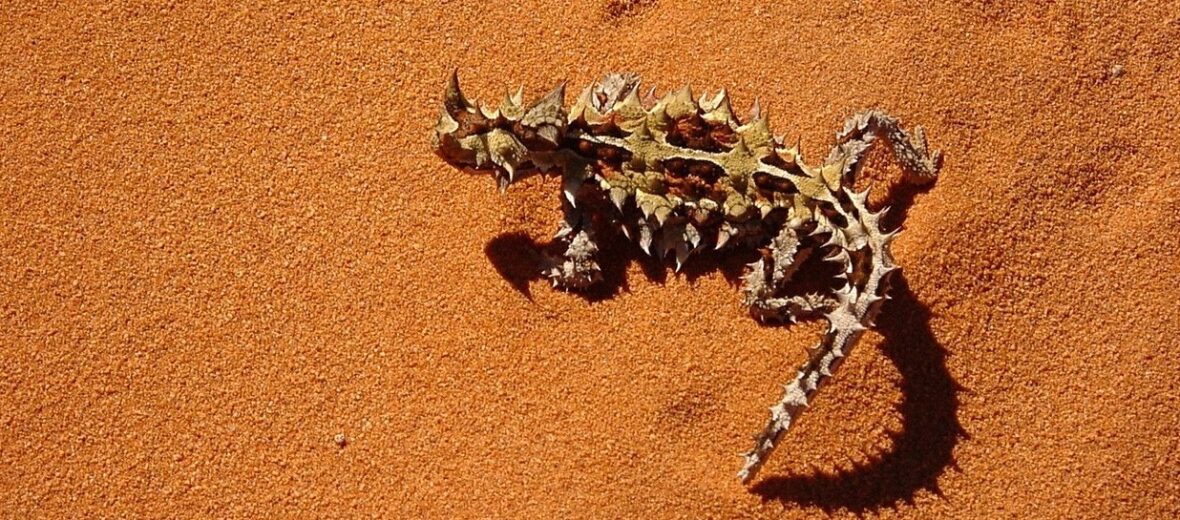 The thorny devil, aka thorny lizard, thorny dragon, or Moloch, is a small species of desert dwelling lizard native to Australia. The closest lizard to them is the horned lizard of America. But they aren't related at all, sans being lizards. Fortunately, these lizards are listed as Least Concern by the IUCN. Export of these cool critters is strictly forbidden by the Australian government.
First the Stats…
Scientific name: Moloch horridus
Weight: Up to 3.12 ounces
Length: Up to 8 inches
Lifespan: Up to 20 years
Now on to the Facts!
1.) They are known as obligate myrmecophages. (they only eat ants). These lizards can eat 1,000s of ants in a day.
2.) When threatened, the thorny devil can inflate itself to appear larger, more fierce, and harder to eat!
3.) These devils will defecate away from where they eat and bask. Their feces looks black and shiny and will crumble when touched.
4.) The thorny devil's name was inspired by John Milton's poem "Paradise Lost."
5.) Although not as skilled at it as the chameleon, the thorny devil can change colors. Lighter colors to shield from heat and darker colors to attract heat to warm themselves.
But wait, there's more on the thorny devil!
6.) Their mating season is between August – December.
7.) While traveling, the thorny devil will walk slowly, stop, then rock back and forth. This is thought to help them blend in as if they are a blowing leaf.
Did you know…?
The thorny devil has a false head! It's a bump or knob on the back of their neck that, when their real head is tucked in, displays a bulbous, sharp knob that helps to thwart predators.
8.) These strange creatures prefer to stay out of the heat and will brumate during the hotter months of the year.
9.) These critters have special grooves between their thorns that helps channel water to their mouths.
10.) They have to consume hundreds of ants a day in order to survive! There is not much nutrition in ants.
Now a Short Thorny Devil Video!
Also, check out the Critter Science YouTube channel. Videos added frequently!
Want to suggest a critter for me to write about? Let me know here.
Learn more about all kinds of cool critters, right here!