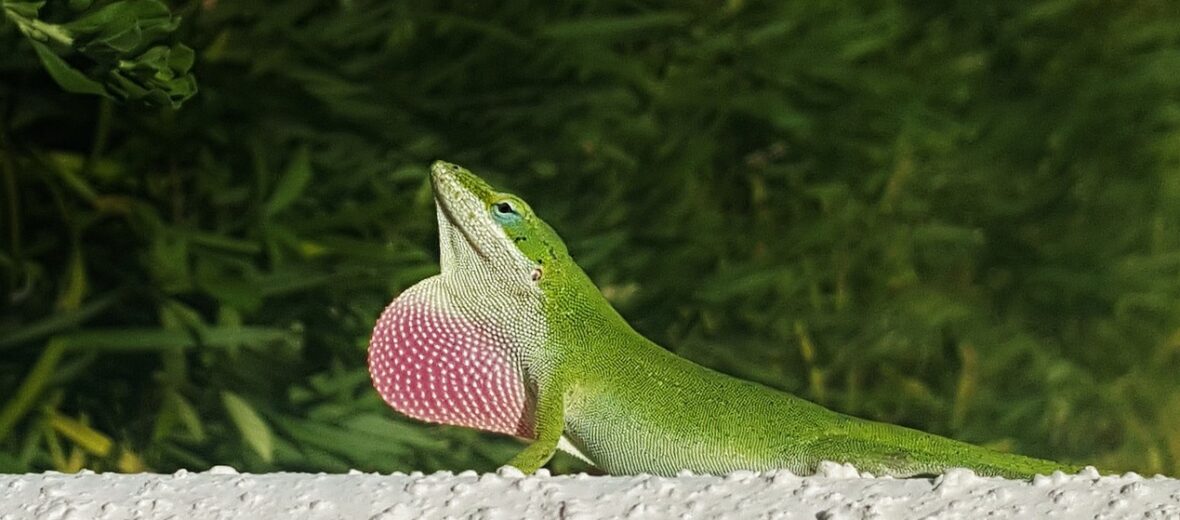 The green anole is found in the southeastern parts of North America. They like woodlands, swamps, backyards, parks, and other humid & forested locales. They are part of the iguana family. Even though they can change colors they are not chameleons. This is a common misnomer. The males and females look the same, sans the male being slightly larger. The male also has a reddish colored dewlap that is presented to thwart other males from mating with his intended female and also to woo said female. These lizards are listed as Least Concern by the IUCN.
First the Stats…
Scientific name: Anolis carolinensis
Weight: Up to 0.21 ounces
Length: Up to 5+ inches, including their tail
Lifespan: Up to 6 years
Now on to the Facts!
1.) These typically green lizards can also turn brown, yellow, gray, and colors in between. They change color primarily based on their environment but mood can also determine the need to change color.
2.) The green anole calls North Carolina, South Carolina, Georgia, Florida, Alabama, Mississippi, Louisiana, and Texas their home.
3.) These critters are arboreal (spend all or most of their time in trees).
4.) They prey on arachnids, grubs, moths, crickets, and cockroaches.
5.) Chief predators are cats, snakes, larger lizards, and birds.
But wait, there's more on the green anole!
6.) This lizard, like many others, has the ability to drop its tail, when danger rears its ugly head. The tail will grow back but will look noticeably different.
7.) Like many other lizards, these critters are diurnal (active during the day).
Did you know…?
Green anoles have enlarged finger and toe pads, covered with microscopic hairs. Their toe pads are similar to a gecko's. Like geckos, they can also scale glass, with the greatest of ease.
8.) In classic iguanid fashion, green anoles also bob their heads and do a series of pushups to intimidate competitor males, like bearded dragons.
9.) Males, in general, are always a little high strung and will even perceive their own reflection as a threat. Calm down, little fella.
10.) Mating season lasts from March – October and the female produces up to 15+ eggs that hatch between 5 – 7 weeks later.
Now a Short Green Anole Video!
Also, check out the Critter Science YouTube channel. Videos added frequently!
Want to suggest a critter for me to write about? Let me know here.
Learn more about all kinds of cool critters, right here!