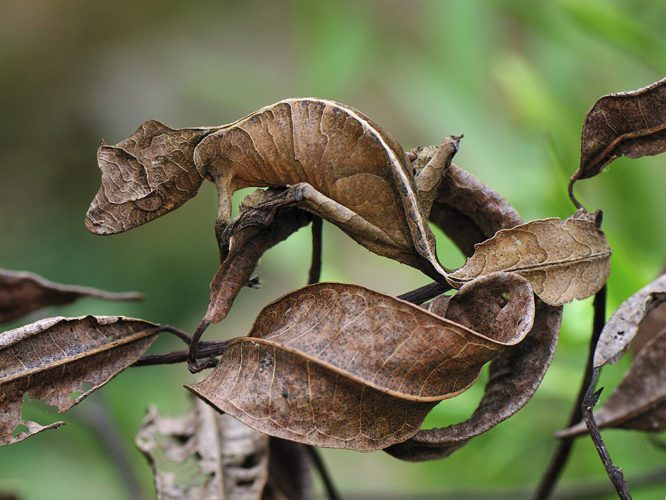 One of my favorite lizard species is the gecko. I have had many in my care over my 41+ years of working with animals. Geckos are famous for their ability to effortlessly climb vertical walls and even hang upside down from ceilings. Read more about the incredible gecko!
First the Stats…
Kingdom: Animalia
Phylum: Chordata
Class: Reptilia
Order: Squamata
Infraorder: Gekkota
Size: .6″ to 17″ long
Weight: .0042 oz to 10 oz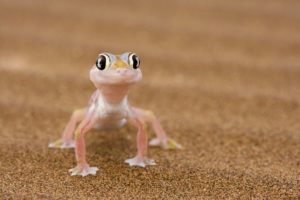 Now on to the Facts!
1.) The smallest gecko (and the world's smallest lizard) is the dwarf gecko. It grows to mere 0.6 inches (1.6 centimeters) long and weighs around .0042 ounces (120 milligrams). Rhacodactylus leachianus leachianus, a subspecies of the New Caledonian giant gecko, (the world's largest gecko) can grow to a whopping 14 to 17 inches (35.5 to 43 cm), including the tail, and weighs 7 to 10 oz. (212 to 279 grams)
2.) Out of the 5,600 species of lizard on the planet, over 1,500 belong to the gecko infraorder called Gekkota.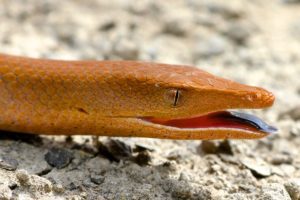 3.) There are some species of geckos that have no legs at all and look more like snakes.
4.) Many geckos can detach their tails — and regrow them later! They do this as a defense to get a would-be predator to chase after their wiggling tail and allow the gecko to escape.
5.) Geckos can produce various sounds for communication, including barks, chirps and clicks.
But wait, there's more!
6.) In captivity, a gecko can live between 10-20 years. Leopard geckos live between 15-20 years. The longest lived gecko is alleged to have live to 27 years old.
7.) Geckos' eyes are 350 times more sensitive to light than human eyes.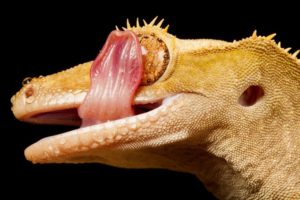 8.) Many species of geckos have no eyelids, so they have the ability to lick their own eyeballs. They do this to clean them and to obtain moisture from dew drops that can gather on their big eyes.
Did you know…?
Most of the 70 Phelsuma species (day geckos) are diurnal (they come out during the day).
9.) Geckos use their tails to store fat and nutrients for times when food is scarce.
10.) Some species of geckos can actually leap from trees and can glide up to 200 feet.
But wait, there's more on the gecko!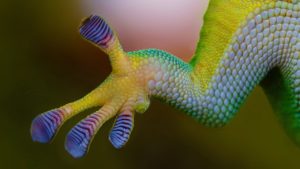 11.) Gecko toes are well-studied and their sticky properties have inspired some incredible technology, such as stitch-free ways to seal wounds and sticky handheld paddles that may help soldiers scale walls someday. For the past decade, researchers have been developing synthetic adhesives with nanoscale fibers designed to mimic bristly gecko toes.
Geckos can stick to surfaces because their bulbous toes are covered in hundreds of tiny microscopic hairs called setae. Each seta splits off into hundreds of even smaller bristles called spatulae. Scientists already knew that the tufts of tiny hairs get so close to the contours in walls and ceilings that the van der Waals force kicks in. This type of physical bond happens when electrons from the gecko hair molecules and electrons from the wall molecules interact with each other and create an electromagnetic attraction.
12.) The name comes from the Indonesian Malay language – gekoq. Even in this language it is not a real word, but an imitation of the chirrups that the gecko makes when interacting with others of its species.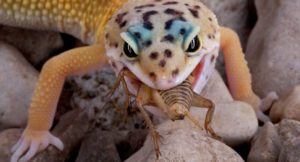 13.) Unlike many species of animals, the gecko thrives around humans. In warm regions of the world the arrival of gecko in to the home is seen as a sign of good luck as they can help rid the house of insects.
14.) Some species of geckos are parthenogenic. This means that the female can reproduce without mating with a male. The offspring of parthenogenisis typically have health issues and sorter lifespans.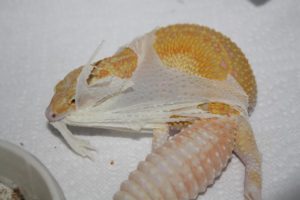 15.) Geckos will typically eat their shed skin! YUMMY!
Now a Short Video!