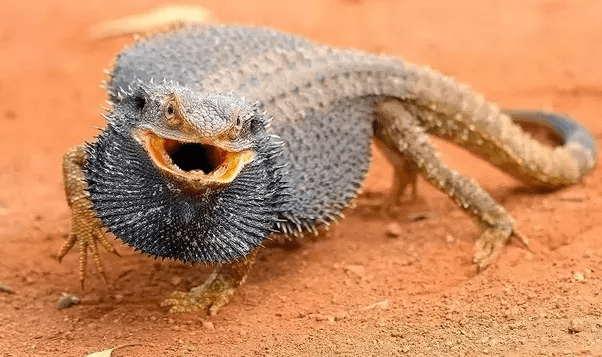 The term 'bearded dragon' is most often used for Central bearded dragon (Pogona vitticeps), which isn't surprising considering that this species is by far the most popular of the lot. In a broad sense, all the species belonging to genus Pogona, including the Lawson's dragon (Pogona henrylawsoni), western bearded dragon (Pogona minor), and eastern bearded dragon (Pogona barbata), are known as 'bearded dragons' – a name which can be attributed to the presence of beard-like scales along their throat and neck.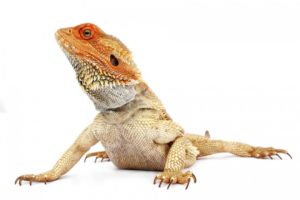 Bearded dragons are found throughout Australia. They have a wedge-shaped head, which appears larger than the rest of their body. Males can be identified by the presence of two hemipenal bulges on the stomach near the base of their tail. The pointed ridges can be seen along their flat bodies. Of the 8 identified species, 6 are highly recommended as pets because of their docile nature.
Here are more fun facts about the bearded dragon…
1.) The bearded dragon can get from 13-24″ long.
The chart below shows the max size based on the type of bearded dragon, but keep in mind that most dragons will not grow to be as big as their max size.
Pogona Vitticeps – 24 Inches
Pogona Barbata – 24 Inches
Pogona Minor Mitchelli – 18 Inches
Pogona Minor Minor – 14 to 18 Inches
Pogona Nullabor – 14 Inches
Pogona Henrylawsoni – 12 Inches
Pogona Minor Minima – 12 Inches
Pogona Microlepidota – 4 to 6 Inches
2.) The bearded dragon's tail is almost as long as its body.
3.) Bearded dragons were not introduced to the United States until the 1990's. Since then they have dramatically increased in popularity and can be found in just about every major pet store.
4.) Bearded dragons are normally very healthy and hardy lizards. However, their lifespan depends on many factors. The chart below highlights different age ranges you can expect from your bearded dragon:
5 to 8 Years – This is the max age bearded dragons get in the wild and is generally how long a dragon will live if their owner just does the basics and doesn't pay any attention to their bearded dragon's diet or health.
8 to 12 Years – This is the likely lifespan of a bearded dragon that is kept healthy and is watched closely by their owner.
12 to 14 Years – Generally the max lifespan of bearded dragons that are kept in captivity.
14+ Years – It is very rare for bearded dragons to surpass 14 years in age, however there have been tales of dragons living to be this old, however it has never been officially proven.
5.) Bearded dragons are called "bearded" because the spikes and scales they have around their head resembles a beard. They use this as a defense mechanism and will expand their throat whenever they feel threatened. This "beard" will also turn jet black when they are threatened.
6.) In 2005 the bearded dragon community was quite surprised to learn that researchers at Australia's Melbourne University discovered that bearded dragons produce a mild venom. Since the venom is harmless to humans (and a majority of other creatures), many researchers believe it was once a trait used by the lizard's ancestors in the past when hunting, but the lizards have since de-evolved that trait.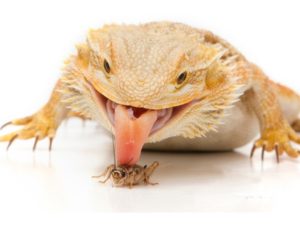 7.) A bearded dragon is an omnivore which means that it eats both animal and plant based foods. While they typically aren't fed 'meat', they do eat different types of worms and insects such as dubia roaches and crickets. But they will happily accept meat, if offered. Best to stick to bugs though.
8.) Bearded dragons can run on their back 2 legs (or hind legs) if they are in an uncomfortable situation and trying to escape from a predator or something they feel is chasing or attacking them.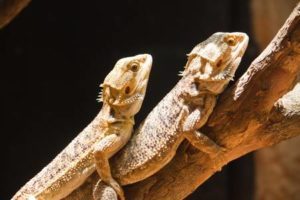 9.) During the mating season, a breeding pair will show much more interests towards each other, especially the male towards females. Mating behavior is typically characterized by the male on top of his female counterpart, biting her neck and beard to hold on for copulation. Their tails will be intertwined to allow the reproductive organs to meet.
The breeding season will also go with a lot of head bobbing movements, some form of hostility towards other dragons, humans and even live food. Behaviors like opening of the mouth and the darkening, to a black to gun metal black color, of the beard and large parts of the body are frequently seen.
10.) All bearded dragons initially came from Australia, due, mostly, to illegal exportation. The large boom in illegal importing came from the 70s-90s. Since the 60's Australia has had a strict ban on the importing and exporting of any animals. Perhaps they've learned their lesson with the introduction of the cane toad?