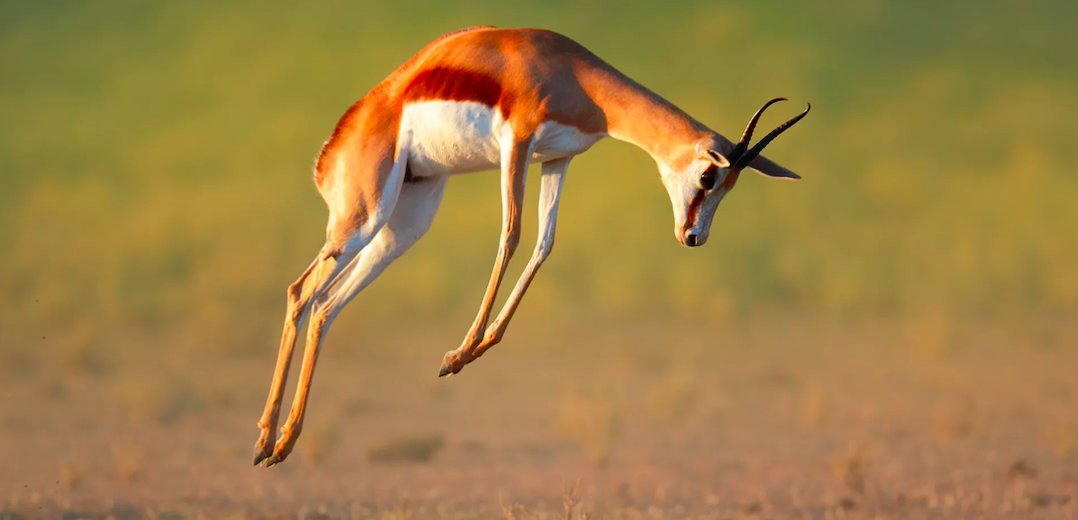 The springbok is a species of antelope that hails from Angola, Botswana, Namibia, and South Africa. They prefer bushlands, deserts, grasslands, open plains, scrublands, and semi-arid areas. Even though they face the threats of hunting and habitat segregation – at the hands of property dividing fences that interfere with migration routes – they are still listed as Least Concern. Their populations are stable and even growing. The estimated total wild population is approximately 1,750,000.
First the Stats…
Scientific name: Antidorcas marsupialis
Weight: Up to 110 lbs.
Length: Up to 6.4 feet
Height: Up to 3 feet
Lifespan: Up to 10 years
Now on to the Facts!
1.) Both males and females sport the lyre-shaped, black horns. These horns grow up to 20 inches long.
2.) Springbok are crepuscular (active at dawn and dusk).
3.) These critters are herbivores (eat plant matter) that graze on flowers, grasses, leaves, roots, and tubers.
4.) Cheetahs, hyenas, leopards, and lions all prey on these critters; as do humans.
5.) Herds are typically divided between males and females. Males dwell in bachelor herds while females live in herds with their offspring. There are also mixed herds with males, females, and offspring.
But wait, there's more on the springbok!
6.) Before the division of land via fencing, springboks would form massive migratory herds and their treks were called trekbokking.
7.) When frightened, springboks can jump up to 9 feet! This is called pronking.
Did you know…?
Springboks can reach speeds of up to 60 mph! That would give the cheetah a "run" for its money.
8.) These critters are polygynous (1 male mates with several females).
9.) Males are territorial when they have a harem. They will mark their territory via urine and large dung piles. If another male approaches the dominant male's harem, a fight will break out.
10.) Mating takes place during the dry season, while the calves are born during the rainy season.
But wait, there's still more on the springbok!
11.) Females birth a single calf after up to a 6 month gestation (pregnancy). They reproduce ever other year.
12.) The calf stays hidden in tall grass for the first day or 2 after birth. This allows for the birthing scent to wane in order to throw off the scent of a newborn from predators.
13.) The springbok is the national animal of South Africa.
14.) Their name comes from the Afrikaans words spring – "jump" and bok – "antelope" or "goat".
Now a Short Springbok Video!
Be sure to share & comment below! Also, check out the Critter Science YouTube channel. Videos added frequently!
Want to suggest a critter for me to write about? Let me know here.
Learn more about all kinds of cool critters, right here!