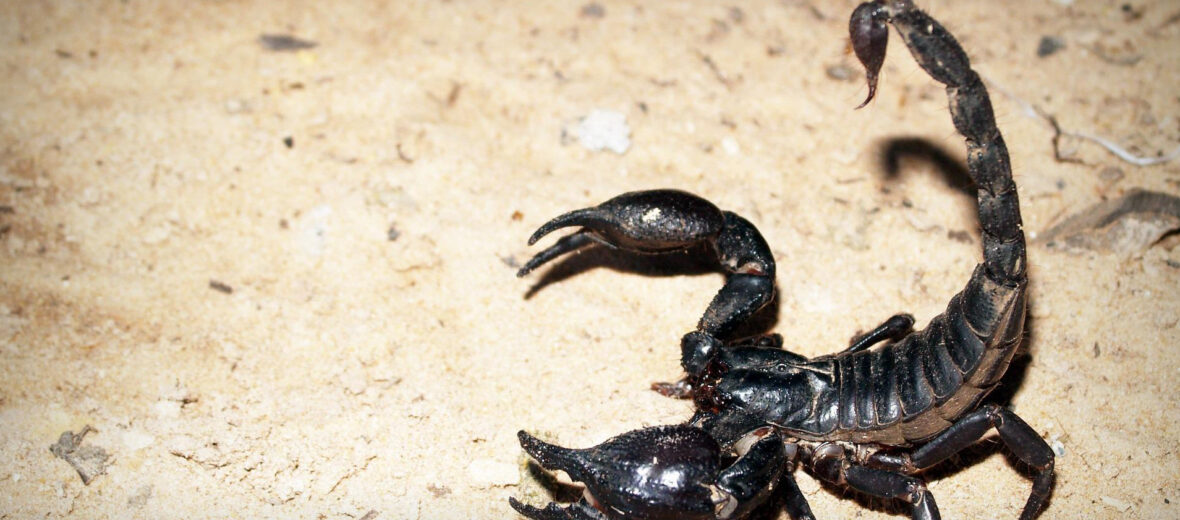 The Asian forest scorpion, aka Asian black scorpion and black scorpion, hails from India on east to Vietnam and Laos. They prefer forested, peaty, and humid, sub-tropical and tropical habitats. These are among the largest scorpion species, with the rock scorpion (Hadogenes troglodytes) of South Africa being number 1. Those scorpions reach up to 9+ inches long! Asian forest scorpions are not evaluated by the IUCN as of yet.
First the Stats…
Scientific name: Heterometrus laoticus
Weight: Up to 3.9 ounces
Length: Up to 6+ inches
Lifespan: Up to 8 years
Now on to the Facts!
1.) Like all known scorpions, they are nocturnal (active at night).
2.) Even though they are communal, cannibalism can sometimes occur.
3.) These scorpions generally have a rather mild disposition and don't often sting when picked up.
4.) If handled abruptly, they will deliver a painful pinch with their pendipalps.
5.) Like all Asian forest scorpions, they have a cluster of eyes located in the front of their carapace.
But wait, there's more on the Asian forest scorpion!
6.) They are preyed on by tarantulas, centipedes, lizards, birds, and mammals like shrews, bats, mice, and rats.
7.) Asian forest scorpions eat spiders, insects, centipedes, other scorpions, and even each other.
Did you know…?
Their sting can cause inflammation, local pain, oedema, slight swelling, and skin redness that lasts for several hours to a few days.
8.) Due to their non-lethal venom, impressive size, and generally docile behavior these scorpions are often kept as pets.
9.) No deaths have ever been reported from a sting of an Asian forest scorpion.
10.) These critters are often farmed as a novelty food in Vietnam. They are also used to make snake wine, aka scorpion wine.
But wait, there's still more on the Asian forest scorpion!
11.) All scorpions will fluoresce under an ultraviolet light. Even their freshly molted exoskeletons will glow for a while too. It is still debated as to why they do this. It is suspected that they use this feature to help locate a mate.
12.) Scorpion venom is the most expensive liquid in the world. It can yield up to $39,000,000 a gallon!
13.) Scorpions are arachnids, but not spiders. The classification of arachnid can be described as 2 body segments, 8 legs, 2 pendipalps (arm-like appendages attached to the cephalothorax – body), and multiple eyes.
Now a Short Asian Forest Scorpion Video!
This video is of the Heterometrus longimanus, but Asian forest scorpions are very similar.
Be sure to share & comment below! Also, check out the Critter Science YouTube channel. Videos added frequently!
Want to suggest a critter for me to write about? Let me know here.
Learn more about all kinds of cool critters, right here!