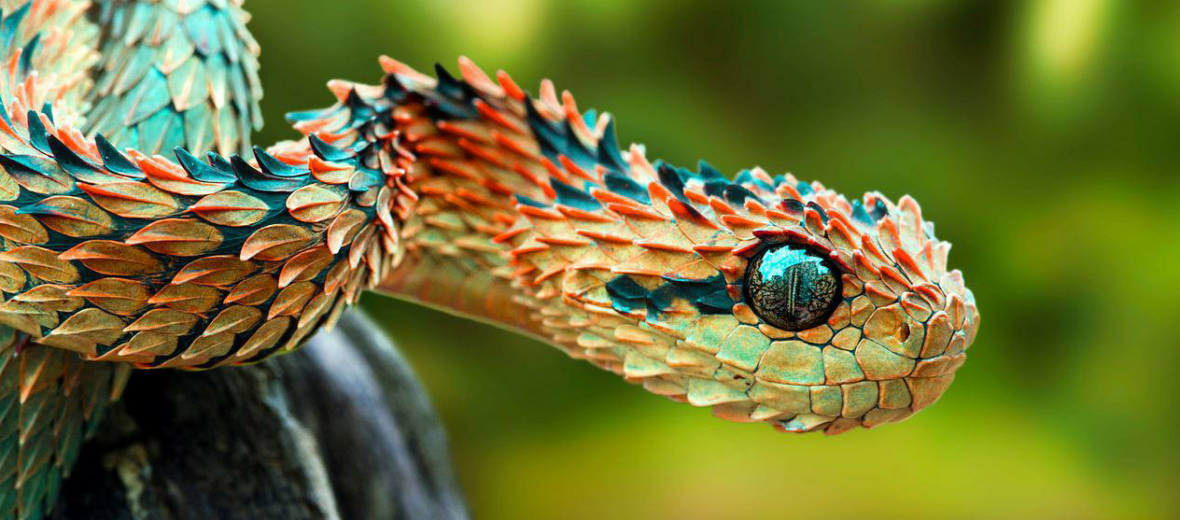 The spiny bush viper, aka African hairy bush viper, rough-scaled tree viper, rough-scaled bush viper, hairy bush viper, or hairy viper, hails from the northern and eastern Democratic Republic of the Congo, western Kenya, southwestern Uganda, and northwestern Tanzania. They prefer rainforests and tropical dry forests with plenty of flowering bushes for cover.
First the Stats…
Scientific name: Atheris hispida
Weight: Up to 2+ lbs.
Length: Up to 24+ inches
Lifespan: Up to 12 years
Now on to the Facts!
1.) These vipers are nocturnal (active at night).
2.) Spiny bush vipers are arboreal (spend their lives in bushes and trees).
3.) Their tails are prehensile (used as an additional limb).
4.) A group of bush vipers is referred to as a den, pit, bed, nest, or knot.
5.) Bush vipers prey on small mammals, lizards, frogs, and birds.
But wait, there's more on the spiny bush viper!
6.) Breeding season lasts from August – October.
7.) Gestation (pregnancy) lasts up to 7 months and yields up to 12 snakelets.
Did you know…?
Their venom has a hemotoxic compound that causes internal organs to bleed. Their is no known antivenom for this species of viper. The venom causes nausea, vomiting, weakness, swelling of the affected limb, and can cause death.
8.) Females are ovoviviparous (eggs are fertilized and incubate inside the mother and then she gives birth to live young).
9.) Spiny bush vipers reach sexual maturity at around 2 – 3 years of age.
10.) These snakes are not known to be aggressive, but will happily strike if threatened.
Now a Short Spiny Bush Viper Video!
Be sure to share & comment below! Also, check out the Critter Science YouTube channel. Videos added frequently!
Want to suggest a critter for me to write about? Let me know here.
Learn more about all kinds of cool critters, right here!