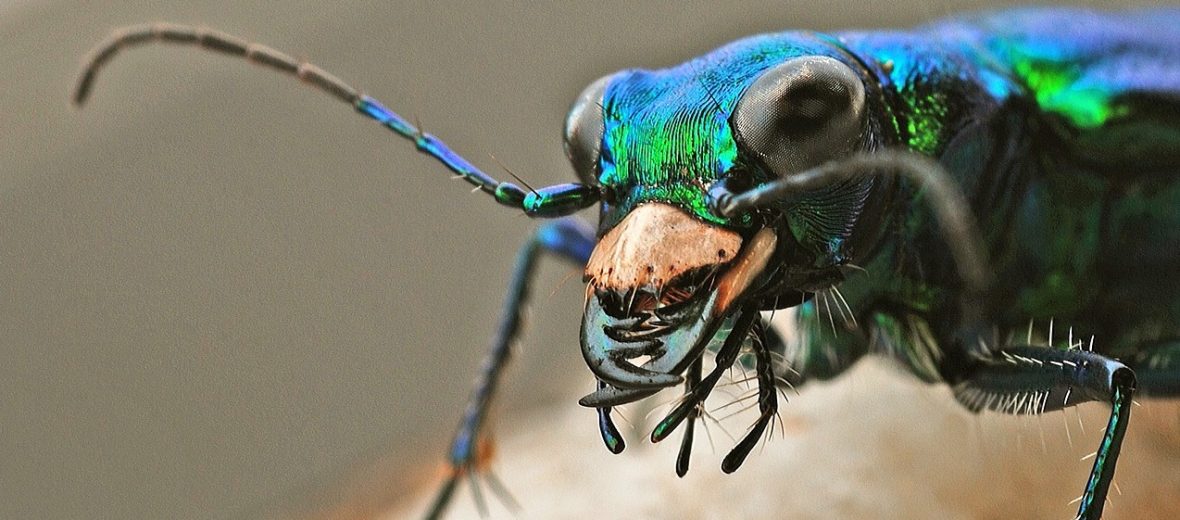 The tiger beetle can be found just about worldwide, sans Antarctica. They prefer sand bars, woodland paths, swamplands, and barren ground scrublands. Tiger beetles are aggressive hunters of insects. These insects are mostly listed as Endangered or Critically Endangered, but some are listed as Data Deficient and Vulnerable, with the IUCN. They suffer at the hands of habitat destruction, invasive species (and with them disease & predation), and climate change.
First the Stats…
Scientific name: Cicindelidae
Weight: Up to .03 ounce
Length: Up to .43+ inch
Lifespan: Up to 2 years
Now on to the Facts!
1.) As of 2005, there are approximately 2,600 species and subspecies identified.
2.) Both the adults and larvae are predatory.
3.) Some species of tiger beetle are diurnal (active during the day), while others are nocturnal (active at night).
4.) Some species are uniform black in color, while others are very brightly colored.
5.) The tiger beetles from Africa are among the largest known. These are in the genus Manticora.
But wait, there's more on the tiger beetle!
6.) These insects, as adults, will literally run down their prey. However, they are also skilled at catching prey on the wing (in mid flight).
7.) In flight, their reaction times are equal to those of houseflies.
Did you know…?
Tiger beetles can reach running speeds of up to 5.6 mph. That equivalent to 125 body lengths per second! If a human were to run as fast, they'd have to run upwards of 480 mph!
8.) Grubs have a large head and a humped back, that they use to flip over, in order to capture prey.
9.) The grubs live in burrows that measure up to 3.28 feet deep.
10.) Some tropical variants are arboreal (spend their lives in trees). However, most are terrestrial (spend their lives on the ground).
But wait, there's still more on the tiger beetle!
11.) While chasing prey on land, they will move in bursts of high speed and then stop to visually reorient themselves. This is thought to be because they run so fast that their visual acuity can't keep up.
12.) Tiger beetles, while not medically significant, can inflict a painful bite, if handled. This is due to their large mandibles.
Did you know…?
Tiger beetles have been around for approximately 125 million years.
13.) Females lay a single egg each season.
14.) The egg is laid in a burrow and then covered up. It is then left to its own devices.
15.) Dragonflies, robber flies, other tiger beetles, birds, mice, rats, voles, and moles all prey on tiger beetles. Some mites also parasitize tiger beetles.
Now a Short Tiger Beetle Video!
Be sure to share & comment below! Also, check out the Critter Science YouTube channel. Videos added regularly!
Want to suggest a critter for me to write about? Let me know here.