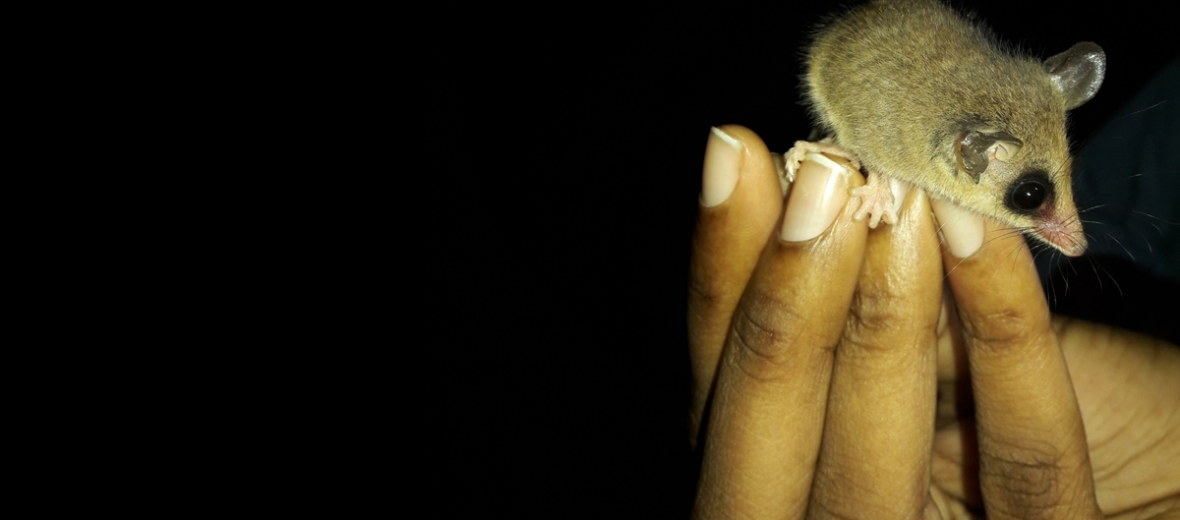 The Robinson's mouse opossum hails from Grenada, Honduras, Panama, Peru, Belize, Colombia, Ecuador, Trinidad, Tobago, and Venezuela. They prefer lowland dry forests, lowland moist forests, montane moist forests, savannas, mangroves, and xeric shrublands (very dry shrublands). With no major threats and a stable population, these tiny critters are listed as Least Concern by the IUCN.
First the Stats…
Scientific name: Marmosa robinsoni
Weight: Up to 2.6 ounces
Length: Up to 5.9 inches, plus up to a 8.27 inch tail
Lifespan: Up to 1+ year
Now on to the Facts!
1.) Robinson's mouse opossums are mostly crepuscular (active at dawn and dusk), with intermittent nocturnal (active at night) behaviors.
2.) As soon as they awaken for the evening, they start things off with a facial and snout groom.
3.) Mouse opossums are solitary creatures. In captivity, they form social hierarchies.
4.) Territories are marked with an oily secretion from special glands.
5.) These critters are arboreal (spend their lives in trees).
But wait, there's more on the Robinson's mouse opossum!
6.) Nests are built in trees. Sometimes they utilize holes in trees, abandoned bird nests, or banana stalks in which to hide.
7.) Females undergo up to a 15 day gestation (pregnancy) that yields up to 14 young.
Did you know…?
Unlike other marsupials, these females do not possess a marsupium (pouch). Instead, the joeys attach themselves directly to their mom's mammae (teats) and stay there for an additional 30 days.
8.) The young are called joeys.
9.) Joeys are weened completely in up to 65 days.
10.) These diminutive critters are Omnivores (eat plant and animal matter) that feast on various insects and fruit. As such, they are important seed dispersers.
11.) Foxes, cats, and owls prey on these opossums.
Now a Short Robinson's Mouse Opossum Video!
This video talks about opossums in general.
Be sure to share & comment below! Also, check out the Critter Science YouTube channel. Videos added regularly!
Want to suggest a critter for me to write about? Let me know here.