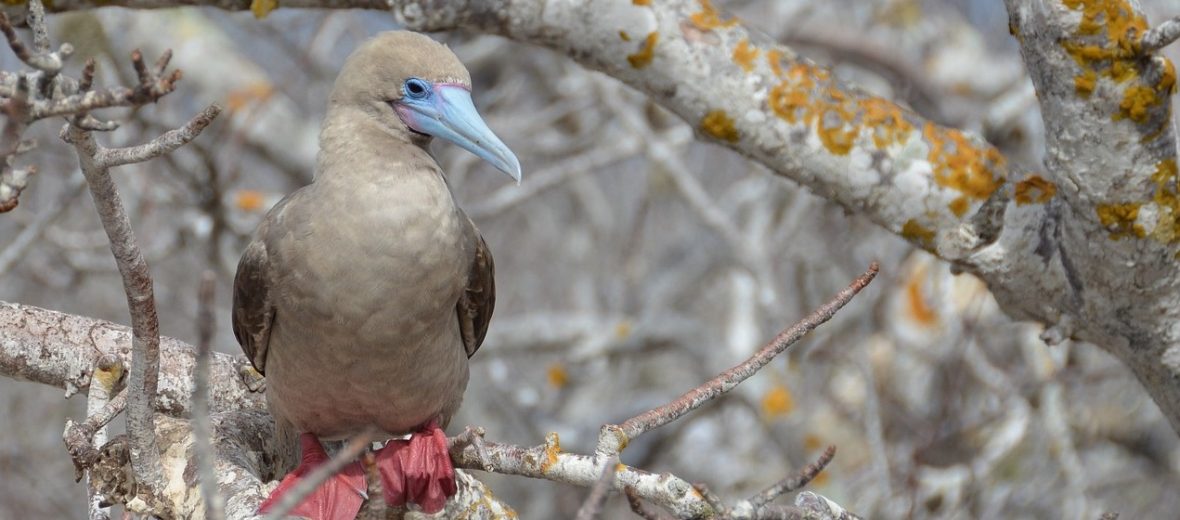 The red-footed booby, as the name suggests, has red feet. They are found on various islands in the Atlantic, Indian, and the Pacific Oceans. While their breeding grounds are on islands, the majority of their lives are spent out at sea. Red-footed boobies are abundant with a population of around 1.4 million wild individuals. Their numbers are stable and they are thus listed as Least Concern by the IUCN. They do face the threat of habitat destruction and loss.
First the Stats…
Scientific name: Sula sula
Weight: Up to 2.2 lbs.
Length: Up to 2.5 feet
Wingspan: Up to 5 feet
Lifespan: Up to 40 years
Now on to the Facts!
1.) Once they take flight, they are graceful. But getting airborne is another story. They tend to be clumsy and awkward in take off and landing.
2.) They can travel upwards of 90 miles a day in search of food.
3.) Red-footed boobies are crepuscular (active at dusk and dawn).
4.) Prey items are caught by diving into the water and then using their wings to almost swim to their food.
5.) Boobies are gregarious birds that live in large colonies.
But wait, there's more on the red-footed booby!
6.) A group of boobies is called a hatch, congress, or trap.
7.) Being Piscivores (eat aquatic life), these birds prey on various fish and squid.
Did you know…?
Besides their obvious difference in foot coloration, blue-footed boobies have a brown back, while red-footed boobies have a white back.
8.) The red-footed booby is monogamous (mates with the same partner for numerous seasons).
9.) Upon greeting one another, they will perform various rituals that include: short dances, the male showing off his blue throat, and loud squawking calls.
10.) Females lay a single egg that hatches in up to 46 days.
Now a Short Red-Footed Booby Video!
Be sure to share & comment below! Also, check out the Critter Science YouTube channel. Videos added regularly!
Want to suggest a critter for me to write about? Let me know here.