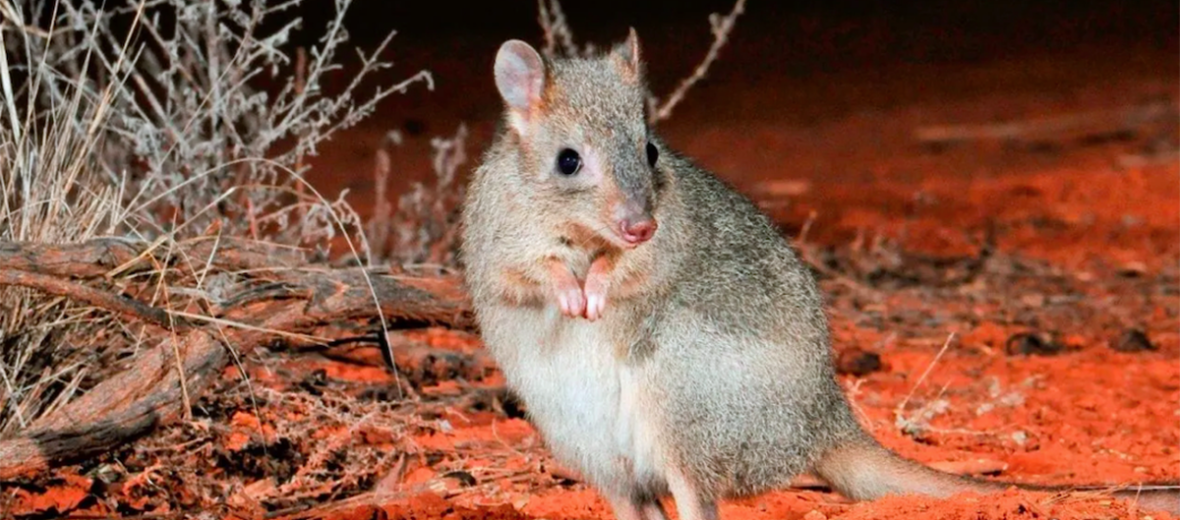 The woylie, aka brush-tailed rat kangaroo or brush-tailed bettong, can only be found in western and southern Australia, as well as New South Wales. They prefer woodlands with a low clumped understory of tussock grasses, open forests, and wooded shrublands. Sadly, due to habitat destruction at the hands of fires and fire suppression, and invasive species (and with them disease, predation, and competition for food), these adorable critters are listed as Critically Endangered by the IUCN. Their numbers are estimated to be around 18,000, and decreasing.
First the Stats…
Scientific name: Bettongia penicillata
Weight: Up to 2.6 lbs.
Length: Up to 17.72 inches, plus up to a 14.17 inch tail
Lifespan: Up to 14 years
Now on to the Facts!
1.) These critters are marsupials (possess a pouch where their joey is further developed after birth).
2.) Their tail serves as a 5th appendage that is used to carry nesting materials.
3.) Woylies are solitary and only come together to mate.
4.) The woylie is nocturnal (active at night).
5.) They are territorial and aggressive towards each other.
But wait, there's more on the woylie!
6.) When an encounter occurs, each woylie will lay on their side and kick at each other, while making guttural sounds.
7.) A group of woylies, while not often seen, is called a court, herd, mob, or troop.
Did you know…?
Woylie is a Noongar word that is pronounced "woy-lee."
8.) Bulbs, tubers, underground fungi, seeds, insects, and resin of the Hakea plant are all regularly consumed.
9.) Breeding takes place throughout the year.
10.) Females undergo up to a 21 day gestation (pregnancy) that yields a single joey.
But wait, there's still more on the woylie!
11.) Joeys are independent in up to 90 days.
12.) Foxes and cats prey on woylies. They also have to compete for food with feral pigs and rabbits.
13.) Feral pigs also transmit diseases to the woylie population.
Did you know…?
Their stomachs produce various strains of bacteria that allow them to consume fungi safely.
14.) The woylie will wrap its tail around its neck to keep warm, while it sleeps.
15.) These primarily Herbivorous critters tend to stay clear of green plants and get all their needed moisture from the foods they eat.
16.) During spring and summer, when the insects emerge to feast on various plants, woylies can be seen leaping in the air and catching flying insects with their forelimbs. Feasting on insects aids plants in controlling the amount of potential damage these insects can cause.
Now a Short Woylie Video!
Be sure to share & comment below! Also, check out the Critter Science YouTube channel. Videos added regularly!
Want to suggest a critter for me to write about? Let me know here.
Photo credit: Australian Wildlife Conservancy.