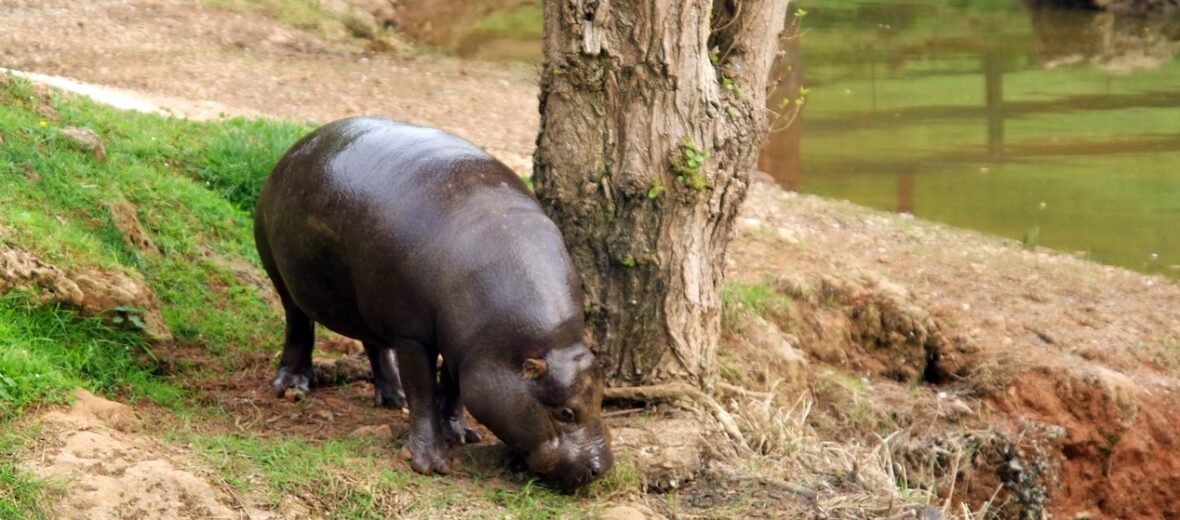 Contrary to popular belief, the pygmy hippopotamus is not a mini version of the common hippo. Even though they are distant cousins, the pygmy hippos differ in several aspects. They can be found in Guinea, Liberia, the Ivory Coast, and Sierra Leone. These mini beasts prefer areas near swamps, wallows, and rivers; providing them a constant supply of water which they need to keep their skin from drying out and that helps prevent them from overheating. These fascinating creatures are listed as Endangered by the IUCN, due to habitat destruction and human interference (like wars and civil unrest).
First the Stats…
Scientific name: Choeropsis liberiensis
Weight: Up to 606 lbs.
Length: Up to 5.74 feet
Lifespan: Up to 55 years
Now on to the Facts!
1.) Pygmy hippos are solitary by nature. Avoiding others, except during mating season.
2.) Some of the differences between river hippos and pygmy hippos are: a pygmy hippo's feet are less webbed, their legs are longer, in relation to their body, and their teeth are different (pygmies have only 1 pair of incisors, where common hippos have 2 – 3).
3.) A pygmy hippopotamus' skin also excretes a pink fluid that looks like beads of sweat and gives the hippo a constant wet look. This fluid is called blood sweat and acts as a type of sunscreen.
4.) To ward off predators, these critters will open their mouth to show their teeth. They will also lunge, rear, scoop water up with their mouth, and head shake.
5.) Their only known natural predator is the leopard.
But wait, there's more on the pygmy hippopotamus!
6.) They mark their territory via fecal marking (poop). They also communicate, vocally, via grunting, snorting, hissing, and squeaking sounds. A sign of submission includes lying prone and urinating while slowly wagging their tail.
7.) Pygmies are nocturnal (active at night).
Did you know…?
They can eat up to 150 lbs. of food each night!
8.) Pygmy hippos are herbivores (eat plant matter). They spend about 6 hours a night feeding.
9.) These plump critters eat broad-leaved plants, grasses, herbs, semi-aquatic plants, herbaceous shoots, forbs, sedges, ferns, and fallen fruits.
10.) The pygmy hippopotamus can be polygynandrous (promiscuous) in the wild. While, in captivity, they tend to be more monogamous (mate for life).
But wait, there's more on the pygmy hippopotamus!
11.) Females birth a single calf each breeding season.
12.) The female will leave the calf, in order to feed and returns, 3 times a day, to suckle her calf.
Did you know…?
The Greek word "hippopotamus" means "river horse".
13.) When diving, like their larger cousins, these hippos have valves in their ears and nostrils which close off to prohibit water from entering.
14.) They possess a 4-chambered stomach. But, they aren't true ruminants and thus ferment food and use microbes differently than true ruminants do. Cud is also not produced.
15.) Diving for up to 6 minutes at a time is commonplace.
Now a Short Pygmy Hippopotamus Video!
Also, check out the Critter Science YouTube channel. Videos added frequently!
Want to suggest a critter for me to write about? Let me know here.
Learn more about all kinds of cool critters, right here!