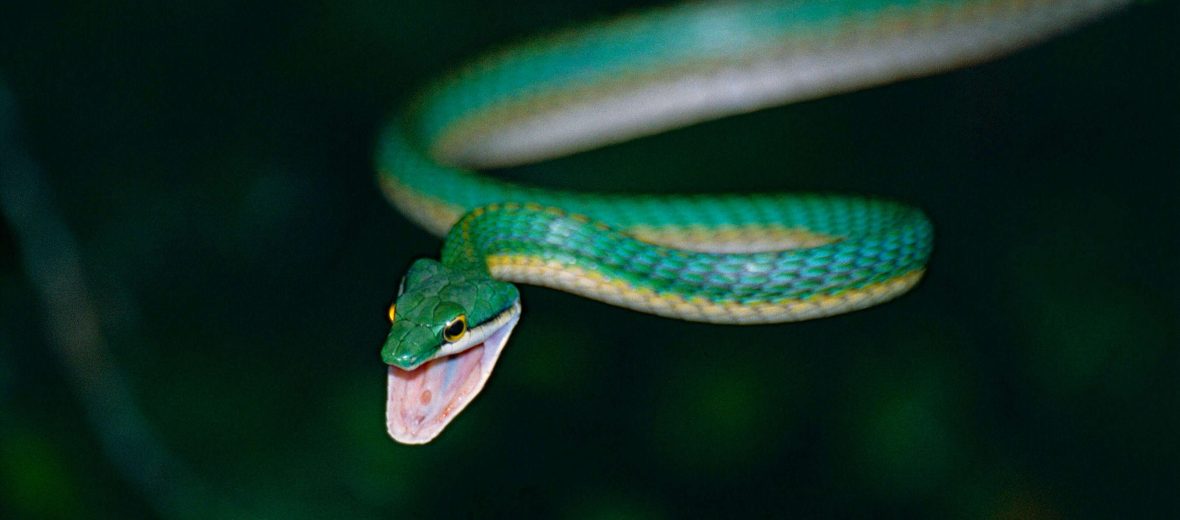 The parrot snake, aka lora, hails from Central and South America. They prefer moist forests, wet forests, rainforests, and dry forest habitats. These slender serpents spend most of their time in trees and bushes, making them arboreal, but they can also be found hunting on the ground as well. Due to a stable population and wide distribution, these snakes are listed as Least Concern by the IUCN.
First the Stats…
Scientific name: Leptophis ahaetulla
Weight: Up to .5 lb.
Length: Up to 68 inches
Lifespan: Up to 8+ years
Now on to the Facts!
1.) As mentioned, these snakes are arboreal (spend their lives in trees and bushes). Hence the long, slender body. However, they can also exhibit terrestrial (spend their life on the ground) behaviors.
2.) Parrot snakes are diurnal (active during the day).
3.) They face the threats of habitat destruction at the hands of agriculture and aquaculture.
4.) Although these snakes are venomous, their venom is only really effective on smaller prey items.
5.) These snakes prey on lizards, frogs, frog eggs, insects, birds, and bird eggs.
But wait, there's more on the parrot snake!
6.) Birds of prey, larger snakes, and various mammals all prey on parrot snakes.
7.) There are currently 10 known subspecies of parrot snakes.
Did you know…?
Envenomation can cause local pain and swelling, redness, and a feeling of pins and needles at the bite site.
8.) Females lay up to 10 eggs.
9.) Eggs hatch in up to 89 days.
10.) The snakelets are born precocial (self sufficient), like all snakes.
Now a Short Parrot Snake Video!
Be sure to share & comment below! Also, check out the Critter Science YouTube channel. Videos added regularly!
Want to suggest a critter for me to write about? Let me know here.