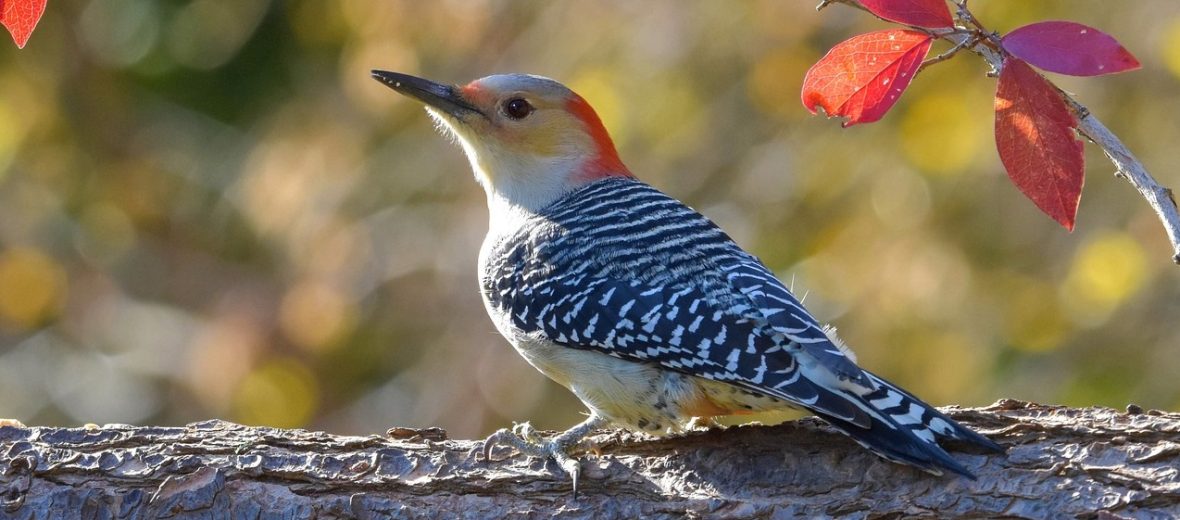 The red-bellied woodpecker can be found in southcentral and southeastern Canada, on down into the eastern half of the United States. They prefer deciduous forests next to rivers and streams. They also like gardens, groves, plantations, and can even be found in urban habitats. With a stable and increasing population, these birds are listed as Least Concern by the IUCN.
First the Stats…
Scientific name: Melanerpes carolinus
Weight: Up to 2.6 ounces
Length: Up to 11 inches
Wingspan: Up to 18.11 inches
Lifespan: Up to 12 years
Now on to the Facts!
1.) Red-bellied woodpeckers are diurnal (active during the day).
2.) While these woodpeckers are typically solitary, a group of woodpeckers is called a fall, descent, descension, drumming, or gatling.
3.) These woodpeckers prey on various insects. They will also eat fruits, nuts, and seeds.
4.) As all woodpeckers do, they drill holes in the bark of trees and use their long tongue to lap up the insects and larvae found within.
5.) They are rather vocal birds with varied calls. Some calls produced make a 'thrraa-thrraa-thrraa,' 'churr-churr-churr,' or an alternating 'br-r-r-r-t' sound.
But wait, there's more on the red-bellied woodpecker!
6.) Both males and females drum (tap their beaks on various surfaces) to call to a potential mate.
7.) The red-bellied woodpecker is monogamous (mates for life).
Did you know…?
Woodpeckers are able to drum up to 20 times per second, which ends up with an approximate total of 8,000 – 12,000 drums per day!
8.) Females lay up to 8 eggs that hatch in up to 14 days.
9.) During the nesting season, these birds become very territorial and aggressive towards anyone or anything that ventures too close to their nesting site.
10.) Metal surfaces are a favorite of males to tap on. As the resonating sound can be heard from greater distances.
Now a Short Red-Bellied Woodpecker Video!
Be sure to share & comment below! Also, check out the Critter Science YouTube channel. Videos added regularly!
Want to suggest a critter for me to write about? Let me know here.