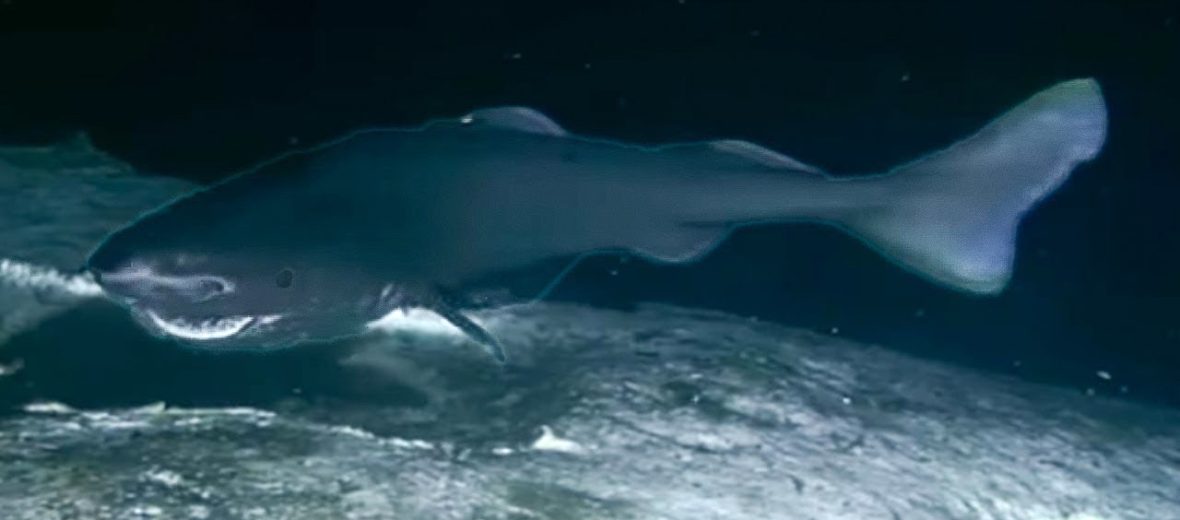 The Pacific sleeper shark can be found in the temperate, northern Pacific Ocean at depths of up to 6,600 feet! However, they can also be found in the South Pacific and in Australasian waters as well. Sleeper sharks suffer at the hands of overfishing and pollution. Their numbers are decreasing each year. The IUCN currently lists these sharks as Near Threatened.
First the Stats…
Scientific name: Somniosus pacificus
Weight: Up to 800 lbs.
Length: Up to 20+ feet
Lifespan: Up to an estimated 200 – 500 years
Now on to the Facts!
1.) Pacific sleeper sharks are considered to be both scavengers and predators.
2.) They prey primarily on giant Pacific octopuses, but will also hunt Alaska pollock, flounders, soles, rockfishes, shrimps, hermit crabs, marine snails, squids, Pacific salmon, and harbor porpoises.
3.) Sleeper sharks are preyed on by orcas.
4.) They are also able to handle high temperature and highly acidic water. This is evident by the discovery of a sleeper shark near the Solomon Islands, at the site of an active volcano.
5.) The flesh of these sharks can cause intoxication, if consumed.
But wait, there's more on the Pacific sleeper shark!
6.) It is believed that these critters are generally harmless to humans.
7.) Females are believed to be ovoviviparous (eggs grow inside the female's body and the young are born live).
Did you know…?
Just like the Greenland shark, the parasitic copepod, Ommatokoita elongata, can sometimes be seen feeding on these shark's corneas, causing blindness.
8.) It is assumed that females birth up to 10 pups.
9.) Pups measure about 1.38 feet long.
10.) They have a powerful bite and use suction to engulf prey items. If a prey animal is too large to swallow, they will chew off chunks and swallow the smaller pieces. The food is also stored in their capacious stomachs.
Now a Short Pacific Sleeper Shark Video!
Be sure to share & comment below! Also, check out the Critter Science YouTube channel. Videos added regularly!
Want to suggest a critter for me to write about? Let me know here.
Think you know a lot about critters? Try your hand at these fun, free quizzes: