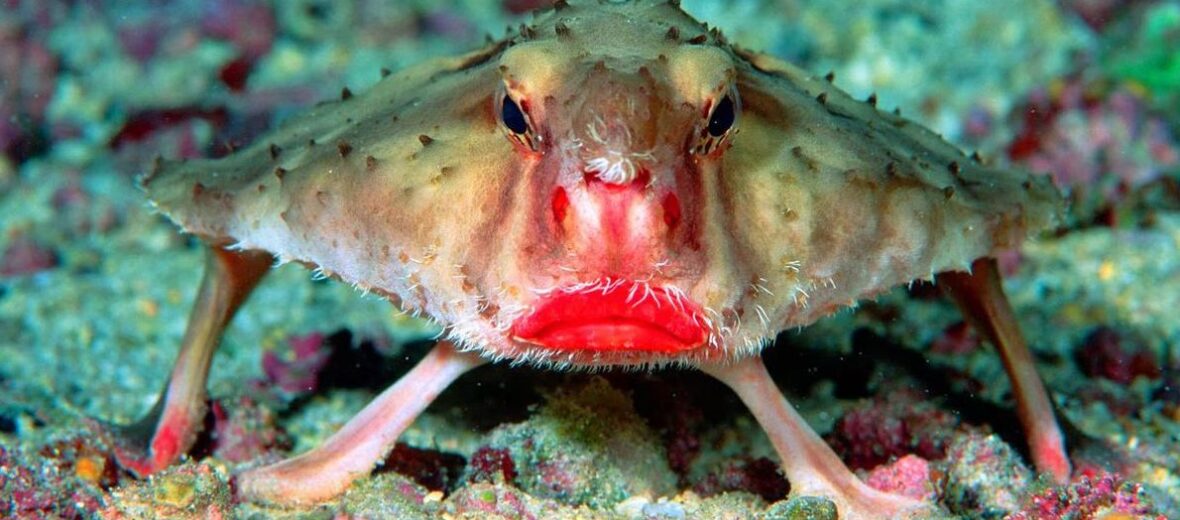 Found near the Island of Galápagos and Peru and looking like a 5 year old put together a fish from random Legos, it's the red-lipped batfish; a type of angler fish. It's hard to take a fish seriously when it looks like it's been put together from spare parts and had lipstick applied for a final touch, but despite their odd looks, they are totally harmless to humans. These peculiar critters live around the coral reefs between 10 – 250 feet deep in the oceanic waters of the Pacific. For now, these fish are listed as Least Concern by the IUCN. This article is on special request from Ryan.
First the Stats…
Scientific name: Ogcocephalus darwini
Weight: Up to 1+ lbs.
Length: Up to 16 inches
Lifespan: Up to 12 years (estimated)
Now on to the Facts!
1.) What's with those red lips? Scientists believe that they are meant as a means of attracting the girls.
2.) Not being a very strong swimmer, the batfish prefers to use its pectoral fins to "walk" along the ocean floor.
3.) The spine-like structure on top of their head is called the illicium. Its primary function is to attract prey. This dorsal unit is common in most batfish.
4.) Red-lipped batfish are Piscivores (eats fish) and also invertivores (eats invertebrates).
5.) On top of their illicium is what is called an esca. This emites light which attracts prey. That prey is then engulfed by it's lipstick donned mouth.
But wait, there's more on the red-lipped batfish!
6.) It is believed that larger fish and possibly sharks prey on batfish.
7.) There are 2 recognized families of batfish: Ogcocephalidae & Ephippidae.
Did you know…?
They get their name from the fact that their pectoral fins look like wings of a bat.
8.) Males and females reproduce sexually and produce eggs that they watch over till the fry hatch.
Now a Short Red-Lipped Batfish Video!
Also, check out the Critter Science YouTube channel. Videos added frequently!
Want to suggest a critter for me to write about? Let me know here.
Learn more about all kinds of cool critters, right here!