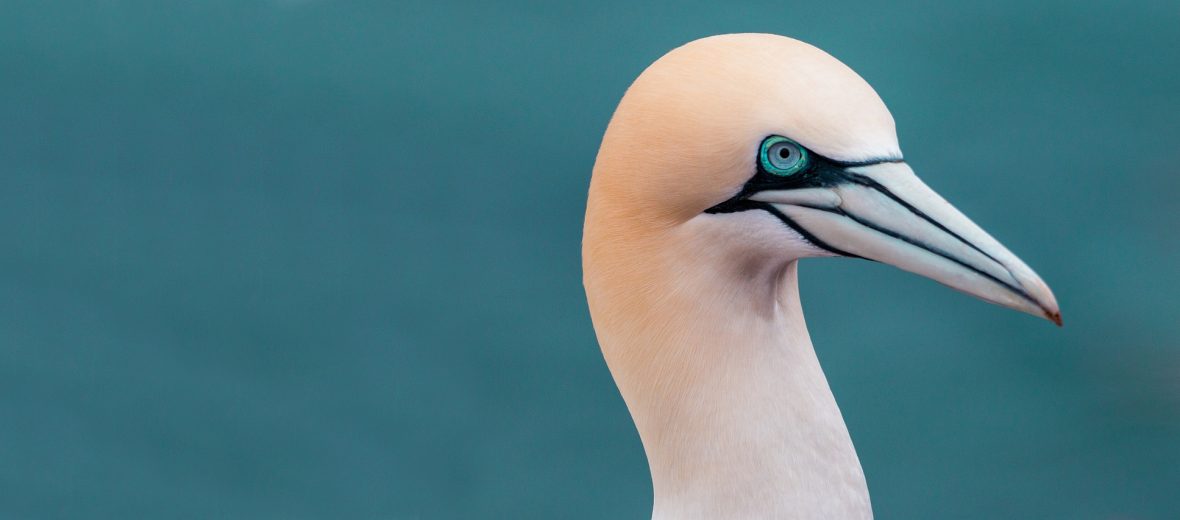 The northern gannet is the largest among the gannet family. They can be found out at sea and off the coastlines of the mid to northern Atlantic Ocean. These birds are the largest in the north Atlantic. Most of their time is spent out at sea. Even though they face the threats of habitat destruction, overfishing, and pollution, these birds retain a stable and increasing population of an estimated 1,800,000 wild individuals. Thus they are listed as Least Concern by the IUCN.
First the Stats…
Scientific name: Morus bassanus
Weight: Up to 6.6 lbs.
Length: Up to 3.6 feet
Wingspan: Up to 72.83 inches
Lifespan: Up to 37 years
Now on to the Facts!
1.) A group of gannets is called a gannetry, company, or plunging.
2.) These birds are gregarious and breed in large colonies.
3.) Even though they are strong and quick in flight, they have the ability to maintain long hours in the air while barely flapping their wings. They can coast through the skies on thermal currents effortlessly.
4.) Due to their size, they are awkward in taking off from land or the water. This is why, on land, they tend to favor cliff sides, and out at sea they simply face into the wind and beat their wings till they take flight.
5.) When the waves are rough or the wind subtle, they can sometimes get beached.
But wait, there's more on the northern gannet!
6.) Prey animals are typically taken via diving from the air, into the water. Their prey is swallowed while still underwater.
7.) Anchovies, Atlantic cod, haddock, sardines, smelt, and other shoaling fish make up the bulk of their diet.
Did you know…?
The word "gannet" hails from the Old English "ganot," which translates to "strong or masculine."
8.) Northern gannets nest in large colonies on both the west and east coasts of the Atlantic, with a preference for offshore island cliffs. The nest is constructed from plants, seaweed, dirt, and various other debris.
9.) These birds are monogamous (mate for life).
10.) Females produce 1 egg that hatches in up to 46 days.
But wait, there's still more on the northern gannet!
11.) Mated pairs engage in a sort of fencing behavior when the male arrives at their nest. They stand, chest to chest, and scissor with their beaks at a rapid pace, while loudly calling out to each other. The fencing is intermixed with bill bowing.
12.) When the chick is hatched, it is altricial (blind and helpless) and blue or black in color. It is guarded by both parents and seldom left alone.
Did you know…?
Northern gannets can plunge-dive up to 36 feet under the water!
13.) Chicks are fed via regurgitation and fed up until about 13 weeks of age. They fledge at around 97 days.
14.) When the chick leaves the nest to start life on its own, it will literally leap from the nest and begin flying. No beforehand practice is performed. In inclement weather, some chicks get blown against the cliffs and are critically wounded or killed.
15.) Some other names for these birds are solan, solant goose, and solan goose. Chicks are also sometimes referred to as a parliament goose or spotted booby.
But wait, there's still a little more on the northern gannet!
16.) The same nest is utilized each season and some nests have measured upwards of 7 feet.
17.) Their calls are loud and frequent. They produce a "arrah-arrah" or "urrah-urrah" sound that is usually meant as a warning to other gannets; particularly males.
18.) As an example of learned behavior, these birds will often follow fishing boats or even cetaceans, in order to pick off easily caught dead or dying fish left behind.
Now a Short Northern Gannet Video!
Be sure to share & comment below! Also, check out the Critter Science YouTube channel. Videos added regularly!
Want to suggest a critter for me to write about? Let me know here.