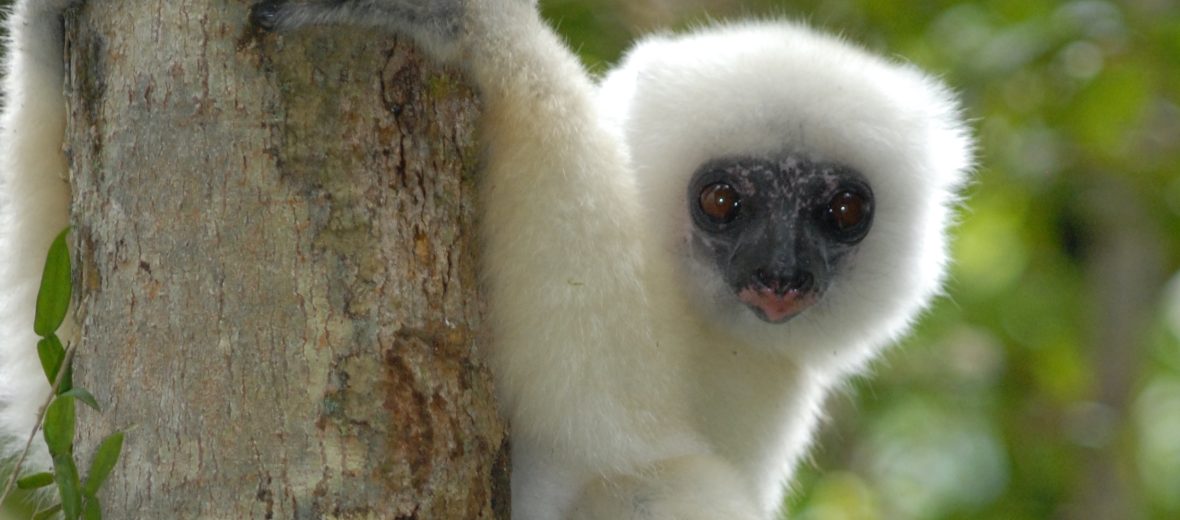 The silky sifaka, aka silky simpona or simpona, is among the rarest mammals on earth. They are only found in Madagascar, from Marojejy south down to Makira and the Antainambalana River. These primates prefer high elevation montane and mid-altitude rainforests; more specifically sclerophyllous forests and low ericoid bushes. Due to habitat destruction at the hands of slash-and-burn agriculture, as well as hunting for bush meat, these amazing critters are listed as Critically Endangered by the IUCN. They only number an estimated 249 wild individuals and those numbers are decreasing.
First the Stats…
Scientific name: Propithecus candidus
Weight: Up to 13.2+ lbs.
Length: Up to 21+ inches, plus up to a 20.08 inch tail
Lifespan: Up to 23 years
Now on to the Facts!
1.) Sadly, there is no taboo or "fady" against eating these primates. So, hunting continues.
2.) These critters dwell in groups of up to 9 individuals.
3.) They are very social and spend their day playing, grooming, and feeding.
4.) Silky sifakas are diurnal (active during the day).
5.) Simponas eat leaves, flowers, seeds, fruit, bark, and sometimes even soil on occasions. It is presumed that the ingestion of soil aids in the intake of calcium and other minerals.
But wait, there's more on the silky sifaka!
6.) Like other sifakas, they rely heavily on scent marking for communication. However, they also present several different vocalizations.
7.) The silky sifaka adult males will gouge trees with their specialized toothcomb (a special set of bottom teeth). Once a groove is made into a tree, they will scent mark the area with their chest. This results in a brown staining on their chest. 1 way to determine males from females.
Did you know…?
They are so named for their "shee-fak" call they make, to communicate with 1 another. They also produce other calls, like the "zzuss" sound, that warns of and gives information about predators.
8.) These sifakas only mate 1 day out of the year, at the start of the rainy season.
9.) Nonmaternal infant care is common, as with other sifakas. This is where other females of the troop will assist in rearing another's young.
10.) Females undergo up to a 6 month gestation (pregnancy) that yields a single infant.
But wait, there's still more on the silky sifaka!
11.) These sifakas live in a matriarchal society (female led troop).
12.) A group of sifakas is called a conspiracy or troop.
Did you know…?
These sifakas can leap up to 30 feet, from tree to tree!
13.) 45% of the day is spent napping and around 22% of the day is spent foraging for food.
14.) They sleep by bending their knees and holding them close to their stomach while clinging to a vertical tree trunk. Kind of like a sitting fetal position.
15.) Due to their white fur, they take on a strange appearance when jumping. This has earned them the name ghost of the forests.
Now a Short Silky Sifaka Video!
Be sure to share & comment below! Also, check out the Critter Science YouTube channel. Videos added regularly!
Want to suggest a critter for me to write about? Let me know here.
Photo credit: Jeff Gibbs