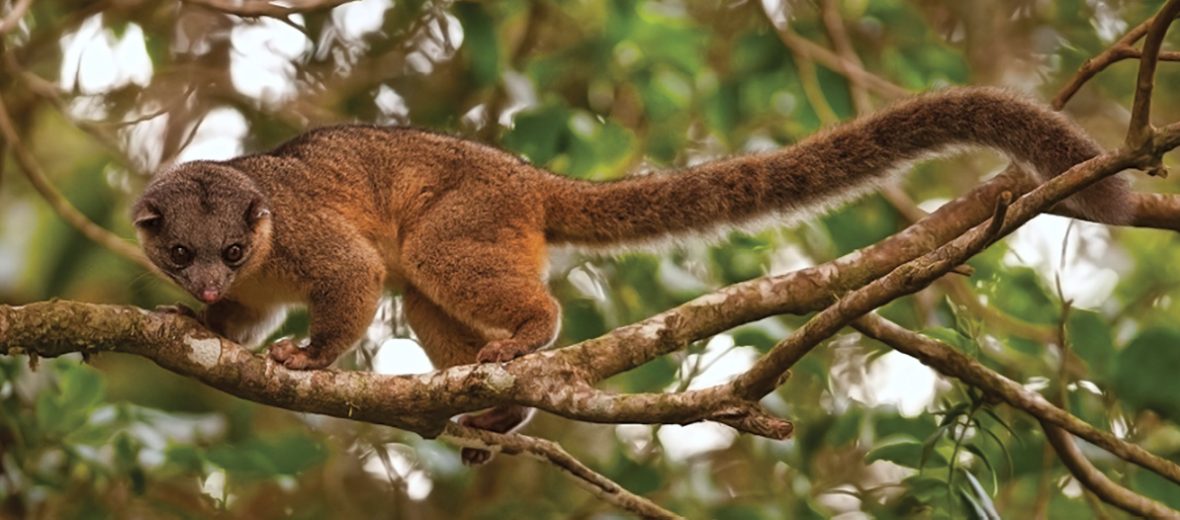 The olinguito hails from the tropical, montane forests of western Colombia and Ecuador. These critters are the first Carnivorous mammal to be discovered, in the western hemisphere, in 365 years! The elusive and mysterious oliguito was previously misidentified as an olingo. They are unfortunately the victims of habitat destruction, in the forms of housing and urban development, as well as deforestation at the hands of logging – both legal and illegal. Thus, they are listed as Near Threatened by the IUCN. There numbers are also decreasing.
First the Stats…
Scientific name: Bassaricyon neblina
Weight: Up to 2 lbs.
Length: Up to 14 inches, plus up to a 17 inch tail
Lifespan: Up to 25 years
Now on to the Facts!
1.) Their scientific name of neblina is Spanish for mist or fog. It is in reference to the cloud forests they reside in.
2.) Olinguitos are the smallest known members of the family that includes: coatis, kinkajous, raccoons, and olingos.
3.) These critters were misidentified for more than 100 years.
4.) The olinguito is arboreal (spend their lives in trees).
5.) They are also nocturnal (active at night).
But wait, there's more on the olinguito!
6.) These critters are solitary and only come together to mate.
7.) They eat insects, fruit, and nectar.
Did you know…?
Olinguitos can jump great distances from tree to tree. But the exact, maximum distance has not been registered yet.
8.) Not much is known of their reproductive system, other than females birth a single offspring.
9.) The female builds a nest high up in the canopy and raises her offspring in it.
10.) With the assistance of locals, more and more is being learned about these cool critters.
Now a Short Olinguito Video!
Be sure to share & comment below! Also, check out the Critter Science YouTube channel. Videos added regularly!
Want to suggest a critter for me to write about? Let me know here.
Photo credit: Helgen K., Pinto C., Kays R., Helgen L., Tsuchiya M., Quinn A., Wilson D., Maldonado J.