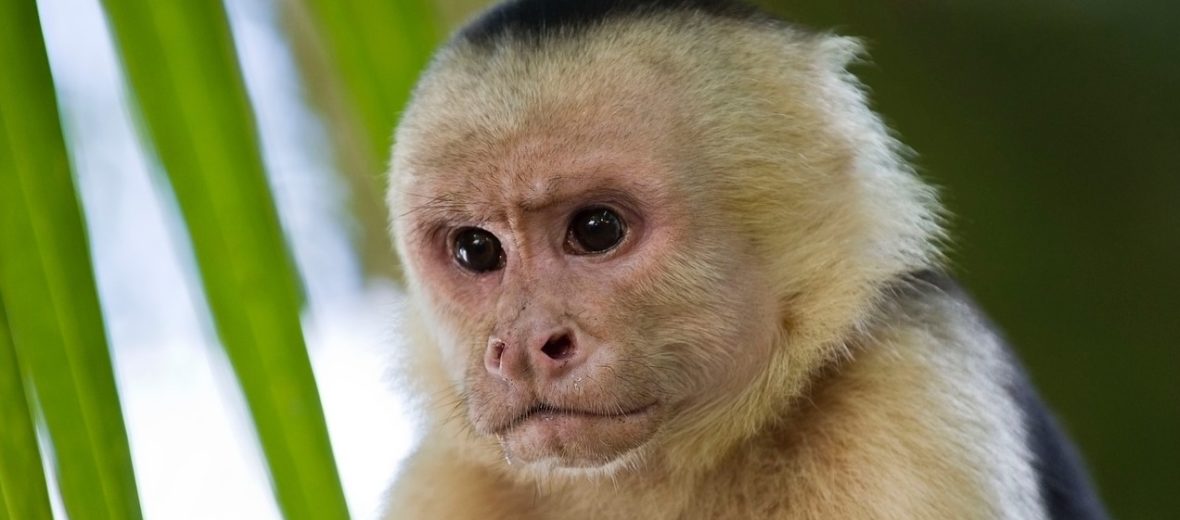 Made famous in movies and TV (Friends TV show), the capuchin monkey is very familiar to many. They are small, curious, full of energy, and always getting into mischief. They are also capable of using tools and more! Read more about these cute little primates. Don't forget to comment.
First the Stats…
Scientific name: Cebus capucinus
Weight: 6.4 – 8.6 lbs (Adult)
Height: 21.7 in
Lifespan: Up to 55 years
Now on to the Facts!
1.) Capuchin monkeys are omnivores (they eat both plant and animal matter).
2.) Like other new world monkeys, capuchins are arboreal (they spend most of their lives in trees).
3.) Capuchins live in highly complex social groups and are only aggressive to members of other groups.
4.) The dominant male is the father of the group's babies. Once the dominant male's daughters mature, they'll only mate with lower-ranking males in the group.. This helps prevent inbreeding.
5.) According to Professor Susan Perry of UCLA, capuchin monkeys will exhibit new and unusual behaviors like eye poking, biting off facial fur and passing it around, and biting or sucking on feet and tails.
But wait, there's more on the capuchin monkey!
6.) To initiate mating some females will throw rocks at their potential male mate.
7.) They also have been observed using tools, like a rock as a hammer to smash open nuts on an anvil-like surface. They have also been seen using sticks and tapping to fish out termites.
Did you know…?
These monkeys are named after monks called the Order of Friars Minor Capuchin.
8.) Capuchins engage in what is known as urine washing. Where they will urinate on their hands and wash their feet. It is not understood yet why they do this.
9.) Their predators include snakes, ocelots, and harpy eagles.
10.) The white-headed capuchin is noisy. They make loud calls, like coughs and barks, are used to communicate threat warnings. Softer calls, like squeals, are used in intimate occasions.
Now a Short Capuchin Video!