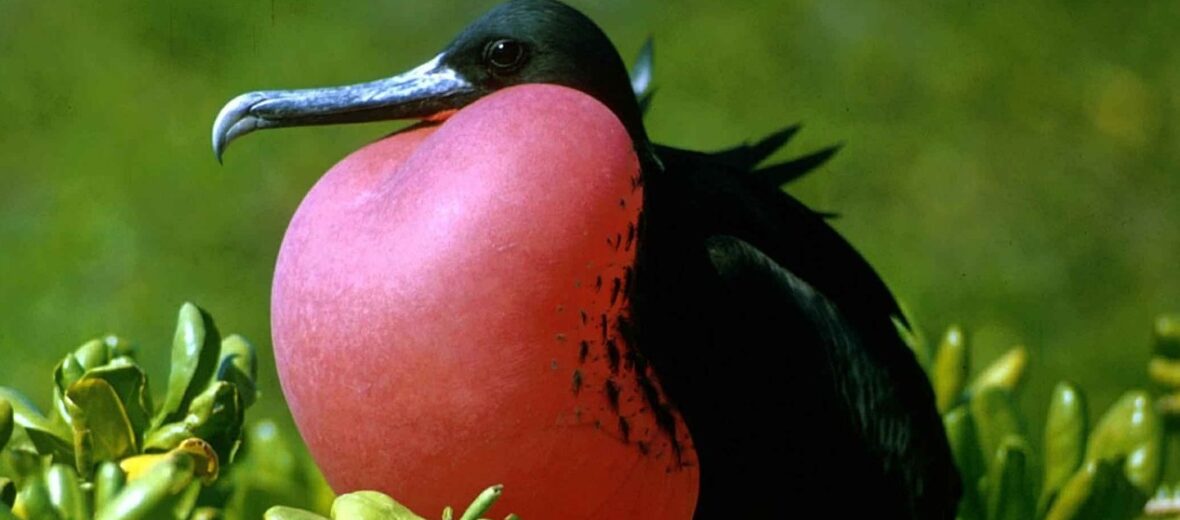 The magnificent frigatebird, aka frigate, frigate bird, frigate-bird, and frigate-petrel, is a site to behold with their impressive wingspan and large red gular sac. There are 5 known species of frigatebird. These birds are listed as Least Concern by the IUCN. This is due to their generally stable numbers (130,000 +/-). Other frigate birds are not so lucky and are listed as Endangered.
First the Stats…
Scientific name: Fregata magnificens
Weight: Up to 3.5 lbs.
Length: Up to 45 inches
Wingspan: Up to 8 feet
Lifespan: Up to 34 years
Now on to the Facts!
1.) A variety of jellyfish, squid, crustaceans, and their favorite: flying fish make up their diet. This makes them piscivores. However, they will also take eggs, turtles, and other bird's chicks making them carnivores too.
2.) These birds engage in kleptoparasitism (stealing food from other animals). Why do the hunting when you can just steal someone else's food?
3.) That large red sac under their chin is called a gular sac. It takes around 20 minutes to inflate it. But it's worth it if it will get them the girl.
4.) When attempting to attract a mate, the males will not only inflate their gular sac, but they will also make clacking, drumming, rattling sounds that actually sound pretty cool.
5.) Once a male and female pair up, the female will build the nest on the nesting perch the male has chosen.
But wait, there's more on the magnificent frigatebird!
6.) Frigates are diurnal (active during the day).
7.) They can be found over subtropical & tropical waters off the coasts of North America, between northern Mexico to Ecuador on the Pacific coast and between southern United States to southern Brazil off the Atlantic coast. They also live on the Galápagos Islands.
Did you know…?
Magnificent frigatebirds can spend up to a week straight in the air. Due to their huge wingspan and thanks to thermals, these birds can even cat nap in mid flight!
8.) These aerial ninjas can skillfully catch flying fish as they leap from the water.
9.) They don't dive or land on the water as their feathers are not waterproof and they will end up drowning.
10.) "Frigatebird" comes from the French "la fregate." Which is in reference to the 17th, 18th, & 19th century warships.
But wait, there's still more on the magnificent frigatebird!
11.) Rats, stoats, and domestic cats all prey on the eggs and chicks.
Did you know…?
Frigatebirds are not typical among other seabirds in that they often have blood parasites, specifically Haemoproteus. They also have large amounts of lice.
12.) It takes around 13 days for the female to build the nest from the sticks the male gathers and steals from the area and from other frigatebirds.
13.) Females lay up to 2 white eggs and both mom and dad care for the chicks.
14.) Frigate birds are seasonally monogamous (mate with 1 female each season).
Now a Short Magnificent Frigatebird Video!
Be sure to share & comment below! Also, check out the Critter Science YouTube channel. Videos added frequently!
Want to suggest a critter for me to write about? Let me know here.
Learn more about all kinds of cool critters, right here!