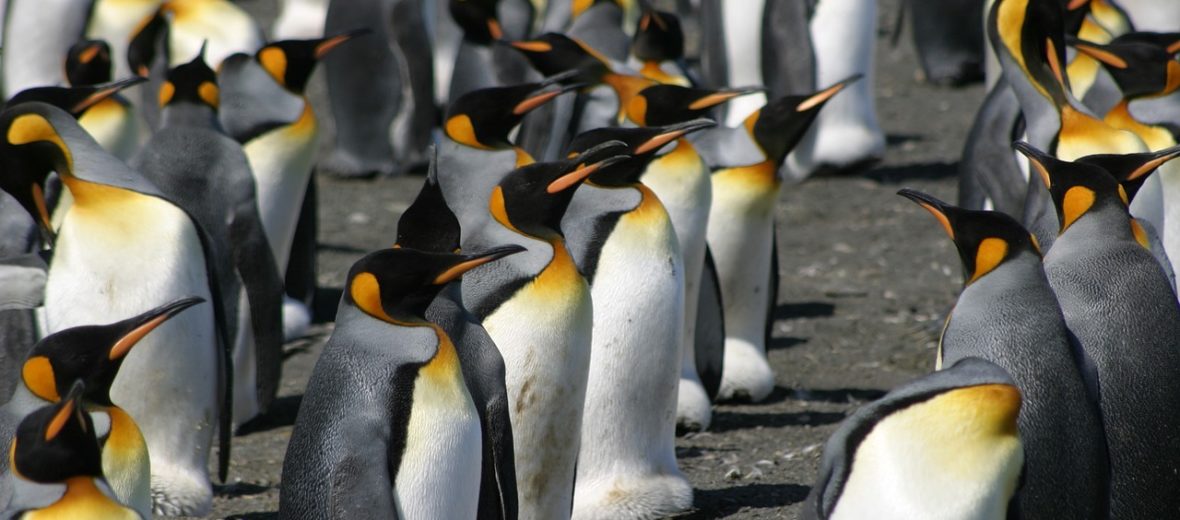 The king penguin is the second largest penguin after the emperor penguin. Their estimated population is about 2.2 million strong and growing! These critters are native to the Antarctica region, primarily the Falkland Islands and South Georgia. But there are also populations on several other islands as well. Due to their large numbers they are listed as Least Concern by the IUCN.
First the Stats…
Scientific name: Aptenodytes patagonicus
Weight: Up to 38 lbs.
Length: Up to 3.1 feet
Wingspan: Up to 25+ inches
Lifespan: Up to 26 years
Now on to the Facts!
1.) Kings ironically like a habitat free of snow and ice, preferring to reside on rocky stretches of land.
2.) King penguins hunt krill, plankton, small fish, and squid. Their favorite food is the lanternfish. However, those are hard to come by, so they resort to the afore mentioned diet.
3.) Their main predators are orcas, leopard seals, fur seals, and sea lions.
4.) These large penguins can swim up to 6 mph.
5.) Their habitat is shrinking due to buildings and roads encroaching on their breeding grounds.
But wait, there's more on the king penguin!
6.) The king penguin has 4 layers of feathers to help insulate them from the harsh cold. They have 3 layers of down feathers to keep them warm and an oily outer layer to help resist water. They have a whopping 70 feathers per square inch!
7.) Unlike most other penguins, these critters don't build nests. Instead, they rest their egg on top of their feet and cover the egg with their feathers to incubate it.
Did you know…?
King penguins can dive up to 980 feet and hold their breath for up to 15 minutes!
8.) During mating season, the male will stand up nice and tall, raise his bill high in the air, and emit trumpet-like calls to let the female know he's in the mood for some lovin'.
9.) Right before breeding season these birds will undergo a full molt; losing all their feathers at once. They do not hunt or eat during this time as they have zero insulation. Before they go through this molt, they will gorge themselves to help them sustain the long period of no food.
10.) Due to the supraorbital gland, just above their eyes which many sea birds have, they are able to drink salt water and filter out most of the salt. This salt is excreted through their nose.
But wait, there's still more on the king penguin!
11.) Because the chicks look so different from their parents, they were once thought to be a totally different species of penguin, called a woolly penguin.
12.) They are unable to hop, so they toboggan, walk, or run.
Did you know…?
King penguin pupils are actually square, when dilated.
13.) Kings are seasonally monogamous. Meaning they will mate and stay with one another throughout the whole breeding season. 70% find a new partner the next season.
14.) After their chick is mature enough it will leave the colony and wont return for 3 years, when it's mature enough to breed.
Now a Short King Penguin Video!
Also, check out the Critter Science YouTube channel. Videos added frequently!
Want to suggest a critter for me to write about? Let me know here.
Learn more about all kinds of cool critters, right here!