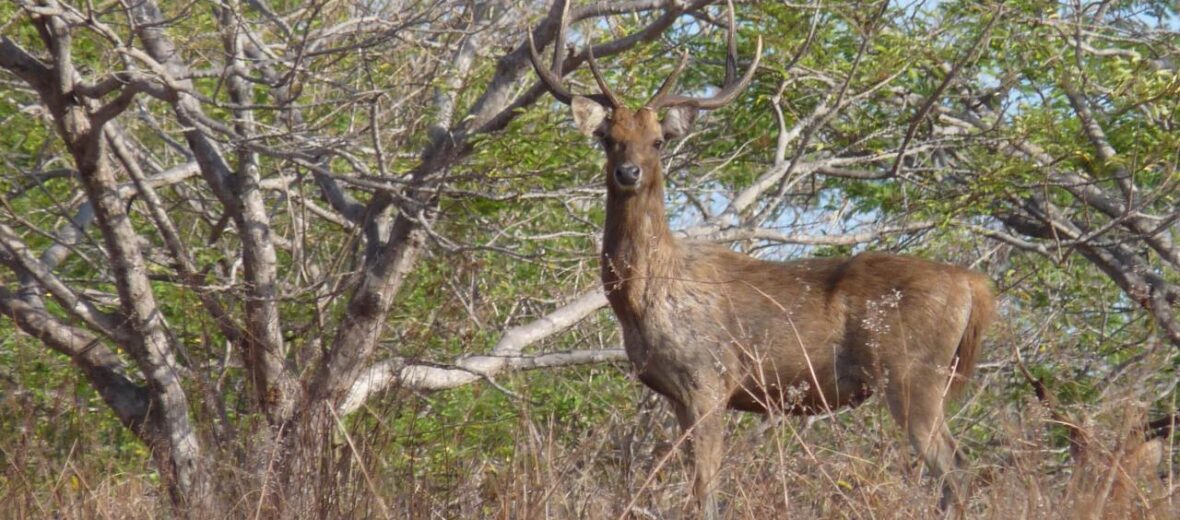 The Javan rusa, aka rusa deer or sunda sambar, is located on the island chains of Indonesia, off of Australia, Brazil, Fiji, Malaysia, Mauritius, Nauru, New Zealand, Papua New Guinea, Thailand, Timor-Leste, Tonga, Samoa, Vanuatu, and the Solomon Islands. They prefer open dry forests, mixed deciduous forests, parklands, Savannas, shrublands, mountains, and marshes. With a decreasing population of less then 10,000, these critters are listed as Vulnerable by the IUCN. They face the threats of habitat destruction, hunting, trapping, and invasive species (and with them disease).
First the Stats…
Scientific name: Rusa timorensis
Weight: Up to 140 lbs.
Length: Up to 5.4 feet
Height: Up to 43 inches, at the shoulder
Lifespan: Up to 20 years
Now on to the Facts!
1.) These deer are matutinal (active in the morning) and vespertinal (active in the early evening/late afternoon).
2.) They are difficult to approach and study, due to being cautious and shy.
3.) Groups are separated into male (bachelor) herds and female (spinster) herds. The 2 groups only come together to mate.
4.) When startled or a threat is perceived, the male will sound a loud honking noise that alerts all nearby rusas.
5.) A group of rusas is called a gang, herd, or mob.
But wait, there's more on the Javan rusa!
6.) These herbivores (eat plant matter) feed on various grasses, leaves, and fruit.
7.) They don't drink standing water, instead they get all their moisture requirements from the foods they eat.
Did you know…?
Their primary predators are the Javan leopard, dhole, crocodiles, pythons, and Komodo dragons.
8.) Rusa deer are polygynous (1 male mates with several females).
9.) During the breeding season, of July – August, males will adorn their antlers with twigs, grass, and leaves to attract a female.
10.) The rut involves males emitting a loud, shrill bark and locking antlers.
But wait, there's still more on the Javan rusa!
11.) Females undergo up to an 8 month gestation (pregnancy) that yields up to 2 fawns.
12.) Fawns are weaned at up to 8 months.
Now a Short Javan Rusa Video!
Be sure to share & comment below! Also, check out the Critter Science YouTube channel. Videos added frequently!
Want to suggest a critter for me to write about? Let me know here.
Learn more about all kinds of cool critters, right here!