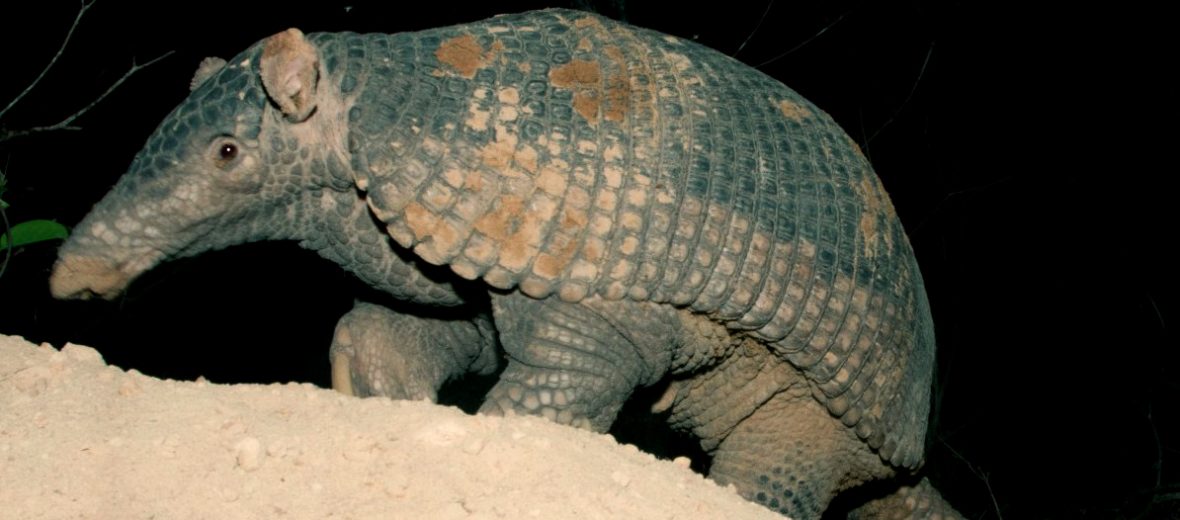 The giant armadillo, aka Ocarro, Tatou, Tatu Carreta, or Tatu-canastra, is the largest species of armadillos. They can be found in South America. There are 21 known species of armadillos. These critters prefer Brazilian floodplains, tropical and subtropical rainforests, arid and semi-arid woodlands, and savannas. Due to habitat destruction at the hands of agricultural demands; hunting; trapping; and illegal trade, these wonderful creatures are listed as Vulnerable by the IUCN. Their populations are also decreasing.
First the Stats…
Scientific name: Priodontes maximus
Weight: Up to 73 lbs.
Length: Up to 3.3 feet, plus up to an 12 inch tail
Lifespan: Up to 15 years
Now on to the Facts!
1.) Giant armadillos are nocturnal (active at night).
2.) These critters are solitary and only come together to mate.
3.) They aren't aggressive towards members of their own species. If a male, for instance, enters the territory of another male, they typically choose to ignore the other's presence, rather than brawl.
4.) Using their large 3rd claws on their forefeet, these semi-fossorial (spend all or part of their lives underground) creatures will construct large burrows with which to retreat.
5.) The giant armadillo is capable of standing upright on it's hind legs and using it's tail for balance. But only for a short while. This standing position is often used in an attempt to ward off predators.
But wait, there's more on the giant armadillo!
6.) After they destroy a termite mound, they will often times bury themselves under the mound's remains for up to 24 hours, before leaving to find yet another mound.
7.) Giant armadillos prey primarily on termites. But will also gladly take ants, larvae, spiders, and worms.
Did you know…?
They may look like little tanks, but these critters can run up to 30 mph!
8.) These critters are serially monogamous (mate with 1 partner in a season).
9.) Females undergo up to a 4 month gestation (pregnancy) that yields a single pup.
10.) The pup is born with it's hard scales and weighs up to 4 ounces.
But wait, there's still more on the giant armadillo!
11.) Pups are weaned in up to 6 weeks time and become sexually mature at 9 – 12 months.
12.) The name armadillo is Spanish and means "little armored one."
Did you know…?
Armadillos can have up to 100 teeth.
13.) This is 1 of only a few species known to prey on fire ants.
14.) Not only can they dig and run fast, they can also swim well too.
15.) They may have poor eyesight, but they have an amazing sense of smell.
But wait, there's still a little more on the giant armadillo!
16.) The armadillo isn't just a digger. They can also climb well and have even been documented climbing small fences.
17.) These drowsy critters can spend up to 18 hours a day, in their burrow, sleeping.
18.) Sans humans, their only natural predators are jaguars and mountain lions.
19.) It is best not to handle any armadillo with your bare hands, as they can carry the disease leprosy, aka Hansen's disease. That can be transferred to humans (zoonotic).
Now a Short Giant Armadillo Video!
This video talks about armadillos in general.
Be sure to share & comment below! Also, check out the Critter Science YouTube channel. Videos added regularly!
Want to suggest a critter for me to write about? Let me know here.
Think you know a lot about critters? Try your hand at these fun, free quizzes: