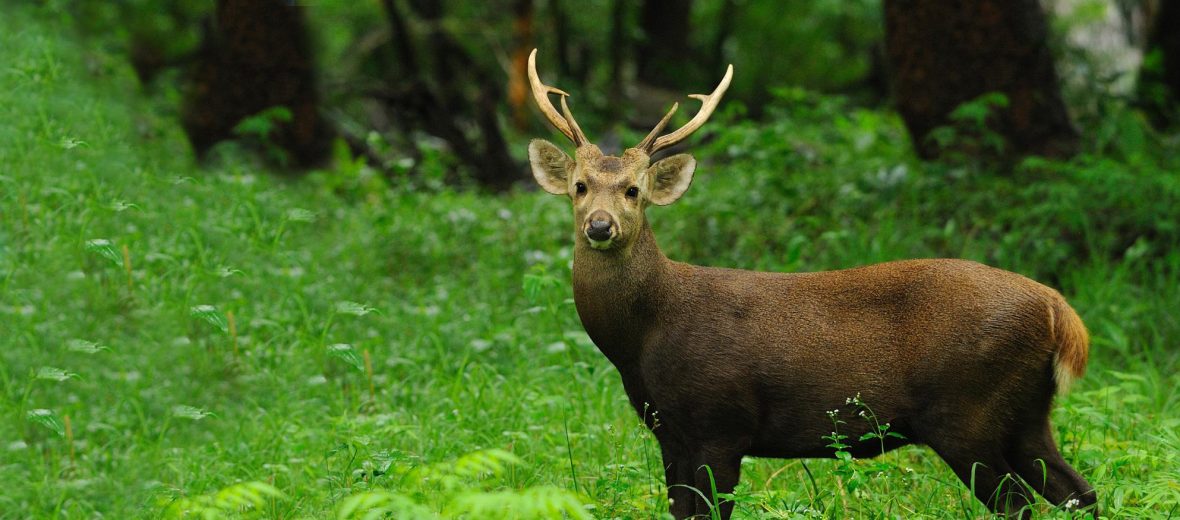 The hog deer, aka Indian hog deer, Indochinese hog deer, or Thai hog deer, can be found in eastern, southern, and southeastern Asia. However, they have also been transplanted to Australia and the United States. They prefer reed beds on floodplains, next to large rivers, tall grassy plains, agricultural lands, and scrublands. Due to the threats of habitat destruction, at the hands of urban and residential developments, agriculture, and aquaculture; hunting; trapping; invasive species (and with them predation and diseases); and climate change, these critters are listed as Endangered by the IUCN. Their populations are also decreasing, in their native ranges.
First the Stats…
Scientific name: Axis porcinus
Weight: Up to 110 lbs.
Length: Up to 36 inches
Height: Up to 28 inches
Lifespan: Up to 20 years
Now on to the Facts!
1.) Hog deer are typically solitary, but they can sometimes be observed in small herds.
2.) A group of deer are called a herd, gang, or mob.
3.) These critters tend to be crepuscular (active at dawn and dusk). But in areas with greater hunting, they can exhibit nocturnal (active at night) behaviors.
4.) Males are typically very aggressive and defend their territory against rival males.
5.) The males mark their territory with scent via special glands.
But wait, there's more on the hog deer!
6.) Hog deer are non-migratory and generally sedentary.
7.) When threatened, they will scatter, in a variety of directions and hide in the tall grass until the danger has passed.
Did you know…?
These deer are skilled swimmers and will often flee to the water, when pursued.
8.) Their alarm calls are usually barks and whistles.
9.) Various plant leaves and grasses make up their diet.
10.) Like other deer, hog deer are polygynous (1 male mates with multiple females).
But wait, there's still more on the hog deer!
11.) Occasionally, monogamy (mate for life) occurs with a single male and female.
12.) Females undergo up to an 8 month gestation (pregnancy) that yields a single fawn.
Did you know…?
Deer will lick their nose in order to keep it moist. This way smells stick to it better, allowing for greater olfaction.
13.) Typically, the fawn is left alone in tall grass while the mother feeds. She returns regularly to nurse her fawn.
14.) Like all deer, the eyes of these critters are positioned on the sides of their head. This allows for 310° vision.
15.) Newborn fawns do not produce any aroma. This aids them in camouflage from predators.
16.) Leopards, tigers, dhols, and even Burmese pythons all prey on hog deer.
Now a Short Hog Deer Video!
Be sure to share & comment below! Also, check out the Critter Science YouTube channel. Videos added regularly!
Want to suggest a critter for me to write about? Let me know here.