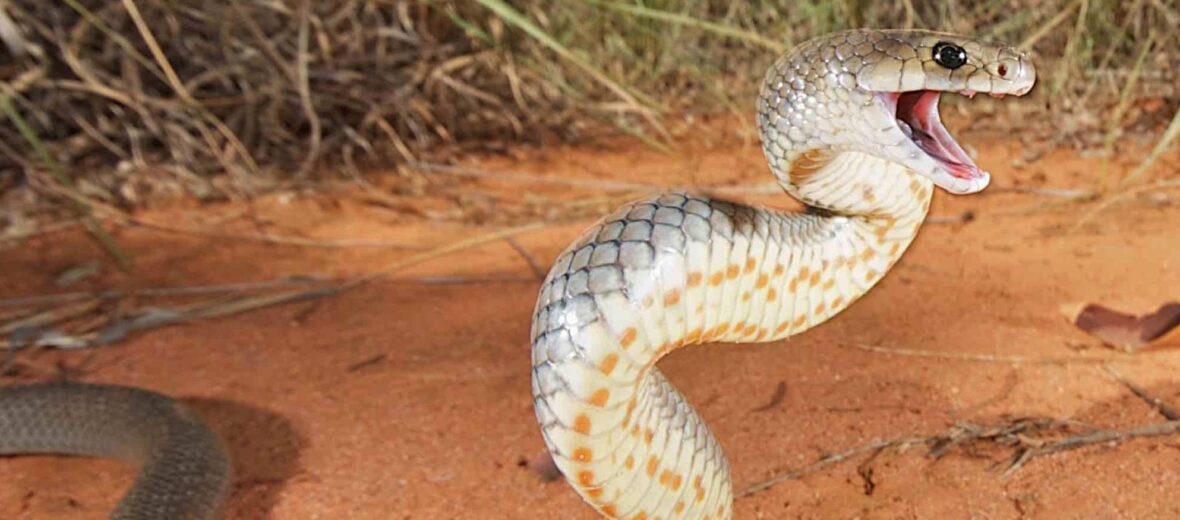 The eastern brown snake, also known as the common brown snake is an aggressive elapid snake that is responsible for most of the snake bite deaths in Australia. These creatures live throughout Eastern Australia in all but the inner suburbs of Greater Brisbane and especially in the west throughout Ipswich and the Lockyer and Brisbane Valleys. However recent captures by snake catchers have recovered specimens as close to Brisbane as Indooroopilly and Taringa. They are also common along bayside suburbs to the north and south including the Gold and Sunshine Coasts. Basically, the eastern 1/3 of Australia is home to these critters.
First the Stats…
Scientific name: Pseudonaja textilis
Weight: Up to 7 lbs.
Length: Up to 6.6 feet
Lifespan: Up to 7 years (In captivity)
Now on to the Facts!
1.) If threatened they take up a strong defensive "S" shaped posture with a gaping mouth, ready to strike.
2.) They are mostly found in and around areas with a large rodent population, such as bird aviaries and stock feed sheds.
3.) These snakes are diurnal (active during the day).
4.) Brown snakes are known to brumate (hibernation for reptiles) for 4 – 5 months, during colder times of the year.
5.) Predators include birds of prey and feral cats.
But wait, there's more on the eastern brown snake!
6.) The eastern brown snakes sometime meet their fate by attempting to eat cane toads, expiring from the poison from the toad's paratoid glands.
7.) Bite symptoms include convulsions, collapse, diarrhea, renal failure, dizziness, paralysis, and cardiac arrest. Without proper medical treatment, bites can be fatal!
Did you know…?
The eastern brown is considered the 2nd or 3rd most venomous land snake in the world, surpassed only by the inland taipan and the golden lancehead. But, unlike the inland taipan, the Eastern Brown's locale includes some of the most populated parts of Australia!
8.) The eastern brown mainly eats small mammals, frogs, toads, lizards, birds, eggs, and they have even been documented feeding on other snakes.
9.) The species is oviparous (lays external eggs).
10.) Females lay up to 25 eggs in late spring or early summer.
Now a Short Eastern Brown Snake Video!
Also, check out the Critter Science YouTube channel. Videos added frequently!
Want to suggest a critter for me to write about? Let me know here.
Learn more about all kinds of cool critters, right here!