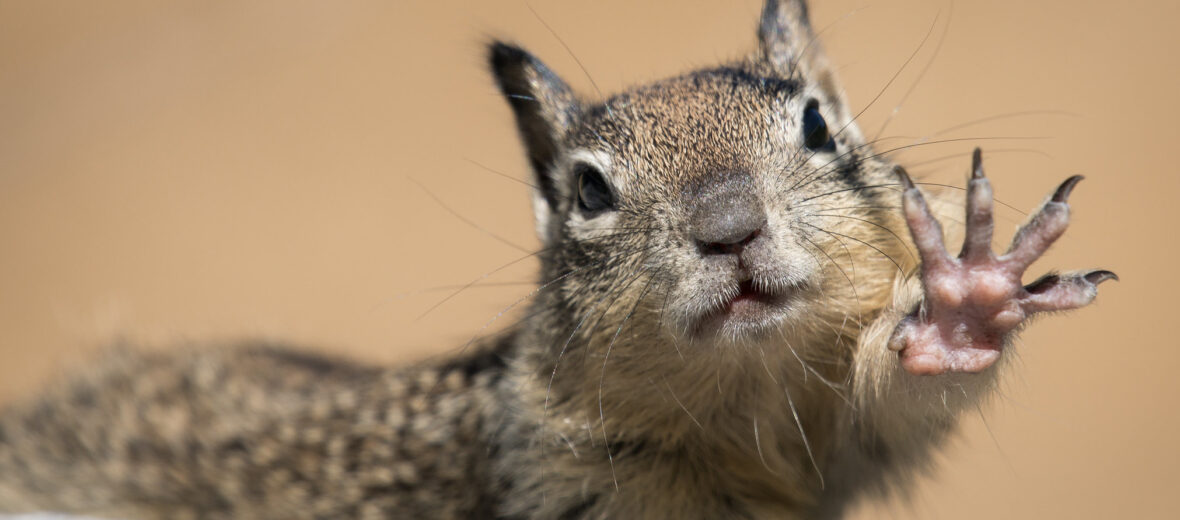 Also known as the Beechey ground squirrel, after Frederick William Beechey, the California ground squirrel is a very common sight throughout most of California. These ground squirrels are found everywhere from central Washington through western Oregon, California, and even into the northern part of Baja California. These cute little critters live in small meadows, plains, hillsides that are tree covered, & they also like rocky outcrops.
First the Stats…
Scientific name: Otospermophilus beecheyi
Weight: Up to 1.3 lbs
Length: Up to 12 inches, plus their 5 – 7 inch long tail
Lifespan: Up to 6 years
Now on to the Facts!
1.) Ground squirrels feast on insects, eggs, roots, tubers, grains, seeds, nuts, and fruit.
2.) Like other squirrels, they will store caches of food for the lean winter months.
3.) Since they like to gather more food than they can possibly carry, they make good use of cheek pouches while they are foraging.
4.) California squirrels dig elaborate burrows that house several generations. What's cool is that each individual has its own entrance.
5.) California ground squirrels communicate via tail signals, chirps, and scent marking.
But wait, there's more on the California ground squirrel!
6.) If threatened, these little critters let out a high-pitched call that can last for minutes!
7.) They are preyed on by golden eagles, red-tailed hawks, foxes, coyotes, weasels, badgers, house cats, dogs, and snakes. Everyone wants to get them some squirrel.
Did you know…?
Males can be aggressive. Well, as aggressive as a squirrel can be anyway.
8.) Mating season is in early spring and tends to last for just a few weeks.
9.) Females birth 5 – 11 pups after just a 1 month gestation (pregnancy).
10.) California ground squirrels are polygynandrous (mate with multiple partners).
Now a Short California Ground Squirrel Video!
Also, check out the Critter Science YouTube channel. Videos added frequently!
Want to suggest a critter for me to write about? Let me know here.
Learn more about all kinds of cool critters, right here!