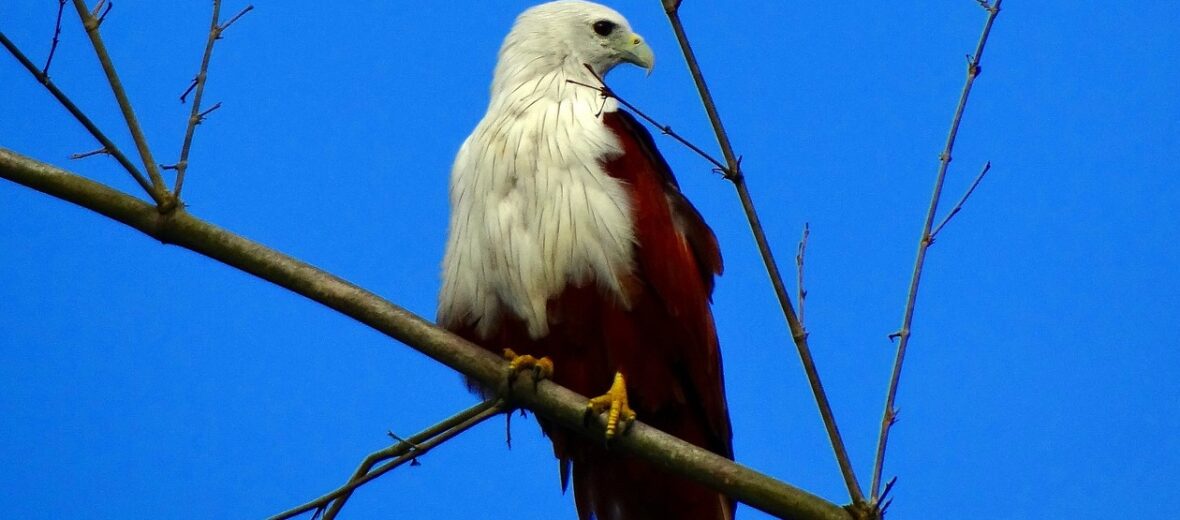 The brahminy kite, aka red-backed sea-eagle, is found in Australia, the Indian subcontinent, and Southeast Asia. They prefer coastal regions, mangrove swamps, wetlands, estuaries, and they also can be found in urban areas. These birds of prey were first described by French zoologist Mathurin Jacques Brisson in 1760. Even though their numbers are decreasing, they still have widespread populations (over 100,000) and thus are listed as Least Concern by the IUCN.
First the Stats…
Scientific name: Haliastur indus
Weight: Up to 24 ounces
Length: Up to 20 inches
Wingspan: Up to 4.1 feet
Lifespan: Up to 30 years
Now on to the Facts!
1.) Brahminy kites don't migrate, but rather relocate based on seasonal rainfall.
2.) They hunt by air, perch, and even on the ground.
3.) In true eagle fashion, like the bald eagle, they also engage in kleptoparasitism (stealing food from other birds).
4.) These birds communicate via sheep-like 'pee-ah-ah-ah' calls and also mewing 'keeyew' sounds.
5.) A group of eagles is called a roost, stooping, string, brood, or a kettle.
But wait, there's more on the brahminy kite!
6.) They're mostly scavengers eating dead fish and crabs. But they do occasionally hunt bats, hares, and flying insects.
7.) It is assumed that these raptors are monogamous (mate for life) or at least mate for long periods of time.
Did you know…?
The brahminy kite is the official mascot of Jakarta.
8.) Females lay up to 2 eggs.
9.) Eggs hatch in up to 27 days.
10.) Both mom and dad take part in caring for the chicks.
But wait, there's still more on the brahminy kite!
11.) Taking part in communal roosting, these kites can sometimes number up to 600+ birds.
12.) In Hinduism, these birds are considered to be the contemporary representation of Garuda. Which is the sacred bird of Vishnu.
13.) On Bougainville Island, there is a tale that speaks of a mother that left her child under a banana tree. The baby floated up into the sky, while crying, to become Kaa'nang, the brahminy kite.
14.) These raptors have been known to sort of play. They will sometimes drop leaves, in mid air, and swoop down to catch them again.
Now a Short Brahminy Kite Video!
Be sure to share & comment below! Also, check out the Critter Science YouTube channel. Videos added frequently!
Want to suggest a critter for me to write about? Let me know here.
Learn more about all kinds of cool critters, right here!