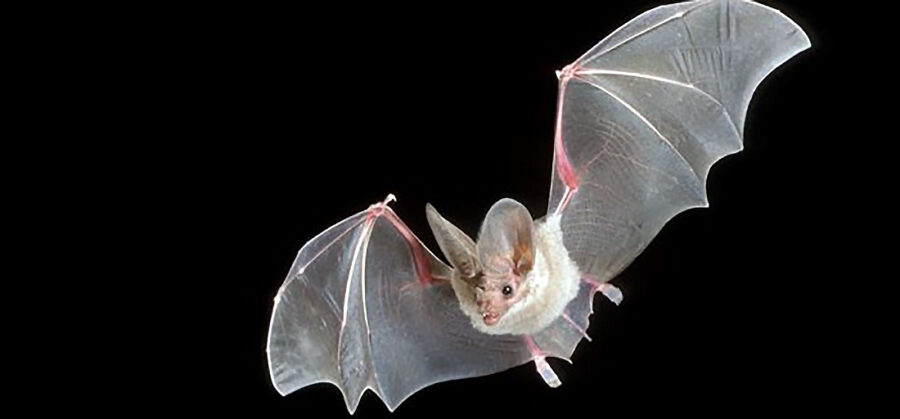 The California leaf-nosed bat is the only bat in North America with ears this large and leaf-like projections on their nose. Other North American bats have typical dimensions… normal sized ears and nose. At first glance, it would appear that these little flying critters are all ears. All the better to hear you with. They can be found in the Mojave and Sonoran deserts, as well as scrub habitats in the Colorado River valley, in southern California, Nevada, and Arizona. They can even be found throughout western Mexico.
First the Stats…
Scientific name: Macrotus californicus
Weight: Up to .41 ounce
Length: Up to 5 inches
Wingspan: Up to 13+ inches
Lifespan: Up to 30 years
Now on to the Facts!
1.) California leaf-nosed bats like mines, caves, and rock shelters. They will seek shelter there till nightfall comes.
2.) These little bats don't hibernate, nor do they migrate.
3.) Leaf-nosed bats are listed as a federal species of concern throughout their range.
4.) Their preferred foods are beetles, grasshoppers, crickets, katydids, and various types of moths.
5.) The primary predators of these bats are snakes, owls, coyotes, feral cats, and raccoons.
But wait, there's more on the California leaf-nosed Bat!
6.) California leaf-nose females mate in fall and remain pregnant throughout winter. A single pup is born in spring and nurses for about a month.
7.) These critters are unable to crawl on their toes and thumbs, like other bats.
Did you know…?
Many people fear bats as they feel they'll get bitten and contract rabies. In fact, you're more likely to contract rabies from a cat or dog bite than a bat.
8.) With their huge ears, their hearing is so acute that they can hear the footsteps of crickets! Shhhh.
Now a Short California Leaf-Nosed Bat Video!
Also, check out the Critter Science YouTube channel. Videos added frequently!
Want to suggest a critter for me to write about? Let me know here.
Learn more about all kinds of cool critters, right here!