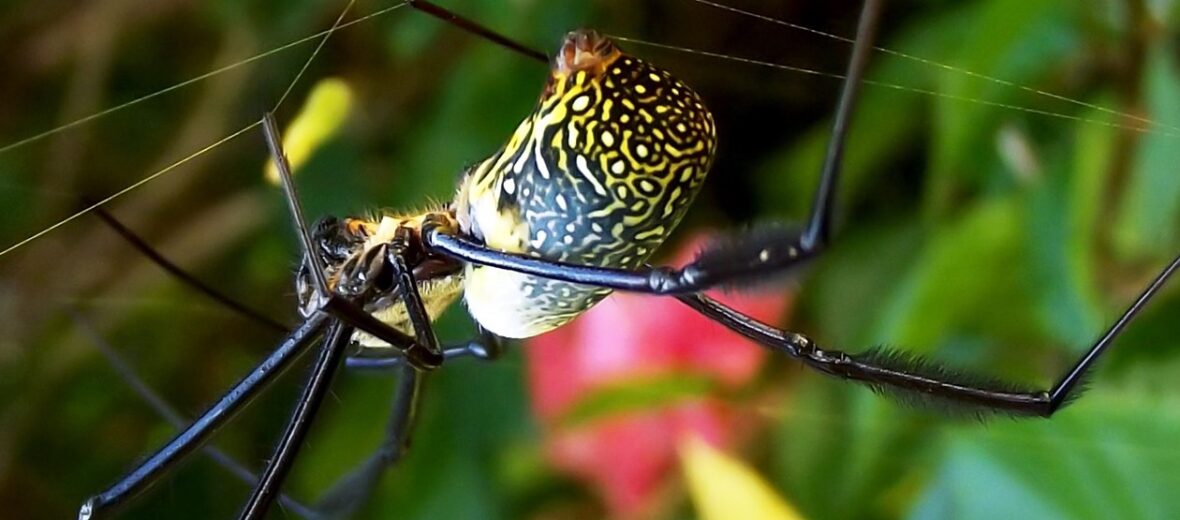 With over 2,800 species in over 160 genera throughout the world, the golden silk orb-weaver spider belongs to the third largest family of spiders known, next to the jumping spiders. Another name for these beauties is the banana spider. These spiders can be found in Asia, Africa, Australia, and in the southeastern U.S., from North Carolina to Texas.
First the Stats…
Scientific name: Nephila
Weight: Up to .14 ounce
Length: Up to 3 inches, plus 5 inch legs
Lifespan: Up to 1 year
Now on to the Facts!
1.) Like other spiders, the males are much smaller than the females and are subject to predation by the female, if she's not "in the mood". So a wham, bam, thank you ma'am approach is best for the males; lest they be lunch.
2.) They are considered the oldest living spider genus, dating back to 165 million years!
3.) These spiders are named for the golden color of their silk.
4.) Indopacific Ocean fisherman have made balls with the spiders' silk. After being tossed into the ocean, the balls unravel and form a net in which to catch fish! Pretty clever.
5.) Clothing has been made with their golden colored silk, including a cape and a shawl.
But wait, there's more on the golden silk orb-weaver!
6.) Golden silk orb-weavers are mildly venomous and a bite can yield blisters, redness, and localized pain. Allergic reactions to their venom are pretty rare and may cause muscle cramps and breathing problems.
7.) The name Nephila clavipes, means "fond of spinning".
Did you know…?
Some orb-weaver spiders have been documented as spinning webs as large as 3 feet across! Just imagine the kung fu moves you'd do if you walked through that web.
8.) Some Orb Weaver spiders don't build webs at all, but prefer to ambush their prey.
9.) Orb-weavers eat a wide variety of insects; primarily flying insects. Females will sometimes also eat the male upon mating. Sorry dude.
10.) Females will spin up to a 1 inch silken ball that holds hundreds of eggs.
But wait, there's still more on the golden silk orb-weaver!
11.) The males guard the female while she spins the egg sac. Assuming he hasn't been turned into lunch.
12.) During late summer, the spiderlings leave the egg sac and disperse by a process called ballooning (floating on the breeze using small silk strands as a sort of kite or balloon). Yep. That's right. Flying spiders.
Now a Short Golden Silk Orb-Weaver Video!
Also, check out the Critter Science YouTube channel. Videos added frequently!
Want to suggest a critter for me to write about? Let me know here.
Learn more about all kinds of cool critters, right here!