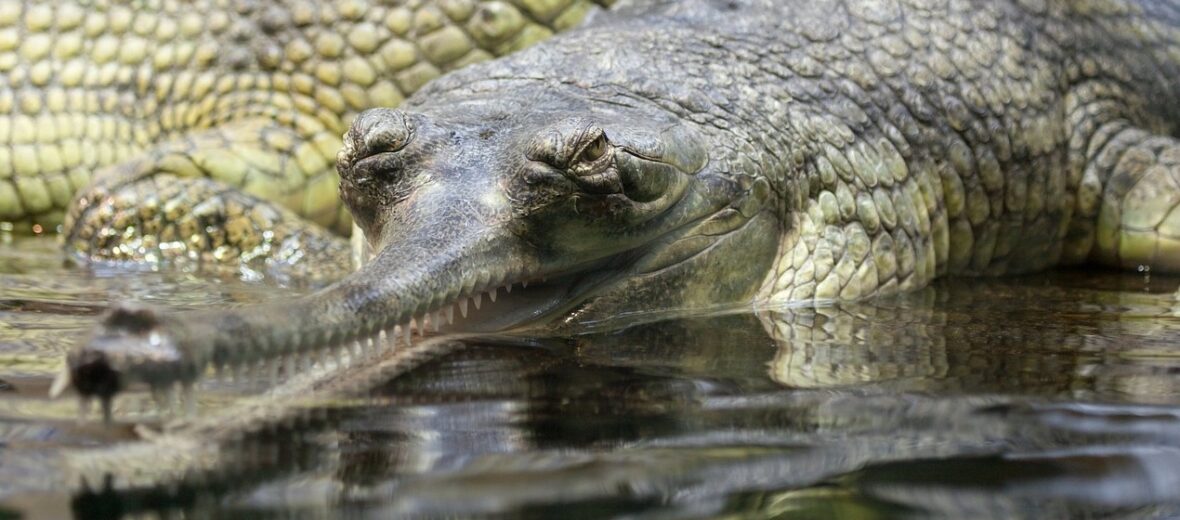 The gharial, aka gavial, makes its home in the fast-flowing rivers in the northern parts of the Indian subcontinent. Once widespread, these crocodilians now dwell in a mere 2% of their original habitat. This is due to dams, artificial embankments, hunting, over-fishing, egg collection, and a lack of available food. These amazing reptiles are listed as Critically Endangered by the IUCN, with a mere 235 known to exist!
First the Stats…
Scientific name: Gavialis gangeticus
Weight: Up to 550 lbs.
Length: Up to 16 feet
Lifespan: Up to 60 years
Now on to the Facts!
1.) Gharials have up to 110 razor sharp teeth.
2.) As they age, they develop a knob just behind their nose. This is referred to as a gharal or a ghara.
3.) The word ghara is a Hindi word meaning round earthenware pot.
4.) These critters are sexually dimorphic (males and females look notably different) in that males are substantially larger than females and the females lack the previously mentioned gharal.
5.) While gharials don't hunt humans, human remains have been found in their stomachs, along with jewelry. It is thought that they have been eating the corpses of bodies floating down the river.
But wait, there's more on the gharial!
6.) They will deliberately swallow stones and subsequently jewelry to help grind up and digest their food. These are called gastroliths, or stomach stones.
7.) They have a resonating chamber located in their ghara. When they breath out, a flap vibrates in the ghara and emits a buzzing noise that can be heard over long distances.
Did you know…?
Due to their weak limbs, they are unable to high walk, like other crocodilians. Instead they drag their bodies along the ground. They are much more adapted to an aquatic lifestyle and excel at swimming.
8.) Their long snouts have evolved to be narrow and are especially adapted for eating fish, as they can easily whip their heads through the water and snatch up their aquatic prey.
9.) Gharials are cathemeral (active during the day and night).
10.) Males will gather up to 4 – 6 females in a harem. These harems are ferociously guarded by the male.
But wait, there's still more on the gharial!
11.) Mating season lasts from December – January, and eggs are laid in the dry season.
12.) Females lay between 30 – 50 eggs that weigh in at about 1/3 of a pound! They are the largest eggs of any crocodillian.
Now a Short Gharial Video!
Also, check out the Critter Science YouTube channel. Videos added frequently!
Want to suggest a critter for me to write about? Let me know here.
Learn more about all kinds of cool critters, right here!